September 6, 2023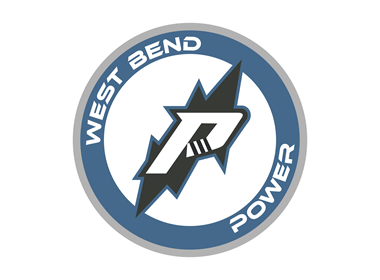 The 3View series will feature an in-depth look into all NA3HL teams in preparation for the 2023-24 season, with two teams being highlighted daily, leading all the way up until the start of the regular season. 3View goes in-depth into each NA3HL team and will include interviews with all the head coaches in the NA3HL, as they provide fans with their expectations and outlook for the 2023-24 season, including taking a look at their potential roster and their strengths as a team for the upcoming season. It will also take a look back on the 2022-23 season and how each team fared and what they accomplished. Best of all, 3View will provide the fans of the NA3HL with an inside look at their favorite team and what to expect.
West Bend Power
Head Coach: Jason Woods (1st Season)
2022-23 Record: 31-13-3, 65 pts. (3rd in Central Division)
2022-23 Leading Scorer: Patrick Toomey (65 points)
2023 Playoffs: Lost to the Oregon Tradesmen in the Central Division Semi-Finals, 2 games to 0
2023-24 Division: Central
The Power made a turn in the right direction in the 2022-23 season, making the playoffs for the first time since 2019. The organization went under a transitioning period from the Milwaukee Power to the West Bend Power during the offseason and along with that came a new head coach in Jason Woods. Woods, native to West Bend, emitted his excitement for the new role.
"It's a dream come true really. Being raised, and living in West Bend my whole life created an opportunity that I couldn't refuse. It's rare that someone gets an opportunity to coach in the very place he grew up playing."
Despite a new face behind the bench, there will be plenty of familiar ones on it. West Bend is bringing back over half of their roster from last season, something that Woods and the staff are looking forward to. Along with that excitement comes expectations to improve on last season's results. He said, "We have a great group of returning players. All of them got a lot of opportunity last year and all of them got a taste of Fraser Cup Playoff Hockey. 14 returners is a great stepping stone that requires the expectations for the year to be raised."
Along with their expectations to succeed and improve, Woods and the West Bend organization put individual development and success at the forefront. Four players from the 2022-2023 roster made commitments to play college hockey. Adam Prokop, their netminder, also tendered with an NAHL team and played five games in the regular season for the Austin Bruins which sets "examples to the younger guys that, through team-orientated goals, individual opportunity is created."
"The number one priority for us is advancement. It's a thrill to see all of our players, whether that is NAHL, NCAA, or ACHA, get an opportunity to continue to pursue their dreams in hockey. I'm looking forward to seeing how all these guys do at their next level, and remain committed to advancement being our top priority. We want to make sure these kids are learning life lessons, embracing this community, and that being here jump-starts their advancement into manhood."
With that large group of returning also comes some promising new players to make impacts on the roster. Woods spoke on what he expects from a few of them. "Jace Fitzgerald, Teagan Scheurer, and Cole Fenske, all three from Rice Lake's State Championship Team, have all joined us this year. They have a shot at being major difference makers up front and are guys we are hoping to see advance! On the back side, we have Monte Goold, who gained a few valuable games with us last season, and Oliver Schroeder, both will be key contributors on defense this year."
With the season just around the corner, the excitement level is high inside and outside of the organization. West Bend will begin their season with a six-game homestand, something that the fans are sure to be excited about. Woods said, "We are blessed with a passionate, smart fan base who help us push through the grind of the season. This community shows up this building rocks every home game we play. It is clearly one of the top atmospheres in the NA3 and we can't wait to get rolling!"
West Bend will kick off that homestand and their season against the Oregon Tradesmen on September 16th.
Next Up: Willmar WarHawks