3View: Wisconsin Woodsmen
September 7, 2023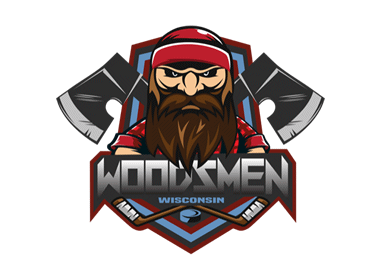 The 3View series will feature an in-depth look into all NA3HL teams in preparation for the 2023-24 season, with two teams being highlighted daily, leading all the way up until the start of the regular season. 3View goes in-depth into each NA3HL team and will include interviews with all the head coaches in the NA3HL, as they provide fans with their expectations and outlook for the 2023-24 season, including taking a look at their potential roster and their strengths as a team for the upcoming season. It will also take a look back on the 2022-23 season and how each team fared and what they accomplished. Best of all, 3View will provide the fans of the NA3HL with an inside look at their favorite team and what to expect.
Wisconsin Woodsmen
Head Coach: Jon Vaillancourt (6th season)
2022-23 Record: 47 GP, 15-26-6, 36 points (5th in West) *as New Ulm Steel
2022-23 Leading Scorer: Gus Cantwell (48 points) *as New Ulm Steel
2023 Playoffs: Did not qualify *as New Ulm Steel
2023-24 Division: Central Division
The arrival of the 2023-24 NA3HL season brings with it a fresh start for the Wisconsin Woodsmen. On April 10, 2023, the Woodsmen were born in their new home in Tomah, Wisconsin, after a purchase and relocation of the New Ulm Steel.
The Steel moved to Wisconsin, where they will now be a part of the Central Division, after a challenging season where they finished with a record of 15-26-6 and found themselves in the fifth position within the West Division. In 2020, the Steel were set to make a Fraser Cup playoff appearance, which got cut short due to the pandemic. Their playoff drought extended over the last three seasons, leaving the organization hungry for success.
The Woodsmen are led by owners Adam Keer and Ryan Egan. Keer's C-level executive leadership experience in a billion-dollar financial institution brings business acumen to the ownership group. He serves as the Managing Member, handling day-to-day operations through the business startup process and will transition day-to-day operations to the Head Coach/General Manager upon hiring.
Egan held positions as the head coach and general manager of the La Crosse Freeze in the NA3HL and the Coulee Region Chill in NAHL. Egan has previously and successfully launched a junior team from league approval to recruiting, rostering, and playing its first game in under four months. As a result of his junior hockey success, in 2019 he was hired to take the helm of the NCAA Division III Saint Mary's University of Minnesota Cardinals in Winona, Minnesota where he will continue to serve as Head Coach.
Behind the bench is a familiar name in Jon Vaillancourt, a seasoned coach with prior head coaching experience in the NA3HL and NAHL. With a proven track record of success, Coach Vaillancourt aims to give the Woodsmen a true identity. He expressed his vision for the team.
"Our players understand that they are not only playing for this program but the fans in our community. From day one, our ownership and staff have focused on building a program that is oriented around player development and advancement. Program success is driven by player success on and off the ice," said Vaillancourt.
As the Woodsmen embark on this new journey, they have a roster filled with promising talent, including key players from last season who will be instrumental in their journey for a spot in the Fraser Cup Playoffs. Expected to lead the way on the blue line are defensemen Nick O'Brien and Charlie Kielty, while Landen Schwantes and Jack Laser are expected to be carrying the weight up front.
Another notable player joining the Woodsmen is 9th overall pick Tyler Osborne, a forward from Team Alaska's AAA program. Vaillancourt expressed excitement and high praise for the young forward, stating, "Tyler has shown that he is able to score goals in big moments with Team Alaska last season. We really like how gritty he plays with his skill set and possesses a high compete level. He is the perfect NAHL prospect and will contribute to our roster in year one on the ice and in the community of Tomah."
For Coach Vaillancourt and the Woodsmen, there is no room for complacency. He expressed a commitment to daily challenges that instill growth and improvement for every player and staff member. "The only failure I accept is failing forward and growing upward," he emphasized.
With a change of scenery and new leadership, the Woodsmen are ready to take the 2023-24 season head on. They kick their season off at home, against the Oregon Tradesmen on Friday, September 15th.
Next Up: Yellowstone Quake