Blizzard storms into playoffs
March 24, 2008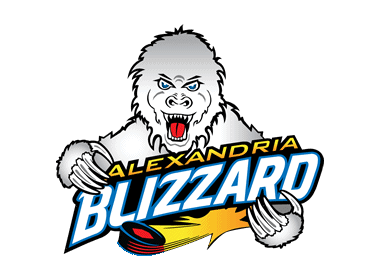 Read the full NAHL Weekly Release.
In what's turned out to be quite a reversal of fortunes, the once-hard-luck Alexandria Blizzard secured its spot in the Robertson Cup Playoffs last weekend in convincing fashion, rattling off three victories by a combined score of 19-4.

"Those were big wins coming down the stretch," said Blizzard coach-GM Brad Willner, whose team improved to 27-25-3 on the season. "To secure a playoff spot by winning three straight games definitely gives us momentum heading into the final weekend (of the regular season)."

The Blizzard got its wheels rolling on Friday with a 5-1 victory over the Bismarck Bobcats. Luke Nesper (game-winner), Mikael Lickteig and Joe Hartman each rang up a goal and an assist, while goaltender Ryan Leets steered aside 25 shots.

Leets made all 18 saves the next night as the Blizzard blanked the Bobcats, 8-0. Brandon Larson notched two goals, including the game-winner, and added two assists, while Larry Kinkaid and Brandon Bahnemann also tallied two goals apiece.

Alexandria wrapped up its perfect weekend on Sunday with a 6-3 triumph over the Fargo-Moorhead Jets. Six different players scored for the Blizzard, with Nesper putting home the game-winning marker and an assist. Leets stopped 33 shots to pick up his third win in as many nights.

"We played hard, but more importantly, we played smart," said Willner. "That and we're starting to capitalize on our opportunities. We've spoken about that as a team and know when you get this far into the season, great opportunities are few and far between. Everyone plays great defense down the stretch and into playoffs."

What a turnaround it's been for the Blizzard. After starting the season at 3-14-2, the squad has transformed into a legitimate contender, trailing the Springfield Jr. Blues by only one point for third place in the Central Division heading into the final weekend of the season.

"The guys are very excited about earning a playoff spot, especially after the start we had," said Willner, whose team is 24-11-1 since Dec. 1. "They feel they're being rewarded for their hard work, both on and off the ice."

One player who has emerged as one of the league's top offensive threats is Nesper. Doing his damage on a line with Jerry Freismuth and Lickteig, the 20-year-old from Eagle River, Wis., now ranks fourth in league scoring with 76 points (25 goals). He's also a plus-32.

"Luke has been playing very well at both ends of the ice," said Willner. "His good defensive play and physical game has added to his offense. He protects the puck well and has limited his turnovers by playing smart. His line has been very productive."

Kincaid, whom the Blizzard picked up after being released by the North Iowa Outlaws, has used his formidable frame to create offensive opportunities, as has Bahnemann.

Leets, who has wins in his last six starts, has also played a pivotal role in the Blizzard's resurgence. Alexandria is counting on big things from the Kentwood, Mich., native come the postseason.

"Ryan and I spoke about needing to step up down the stretch," said Willner of the 18-year-old. "He knows he can't let up with the success he's had. He's very mature and is working hard at improving his game every day. He'll be a key to our playoff run."

The Blizzard's postseason fortunes could also dictate much of its success on the college front. With two commitments to date - Bryce Ravndalen (St. Cloud State) and Larson (Utica College) - a number of others are knocking on the door, including Nesper and Lickteig.

"They're both getting attention from many D-I schools," said Willner. "Both are working hard on helping the team succeed and know that if that happens more schools will jump into the mix."

Currently in fourth place in the Central, the Blizzard has accomplished one of its goals by securing a seat to the postseason table. It would like nothing more, however, than to continue its run into the postseason with the division's No. 3 seed.

With two games against the Central Division champion North Iowa and one against Fargo-Moorhead to conclude the regular season, Alexandria isn't looking too far ahead.

"We need to play great this final weekend," said Willner. "Our guys are only focused on what they can control, though, and that's Friday night against North Iowa."
AROUND THE NAHL
PLAYOFF BOUND: Springfield and Alexandria clinched the final two playoffs spots in the Central Division last weekend, while Alpena and the USNTDP locked down the last two postseason berths in the North Division.

COOPER HONORED BY USOC: St. Louis coach-GM Jon Cooper was named one of five finalists for the 2007 United States Olympic Committee's Developmental Coach of the Year Award, which will be presented on April 15 during the 2008 U.S. Olympic Team Media Summit in Chicago.

MERRIFIELD TO MICHIGAN STATE: St. Louis forward Mike Merrifield, 18, has committed to Michigan State University (CCHA) for the 2009-10 season. This year, the Beverly Hills, Mich., native has 18 goals for 57 points after 57 games.

SAINT ROBBY: Second-year North Iowa goaltender Robby Moss, 20, has committed to St. Lawrence University (ECACHL) for next season. The St. Louis native leads the NAHL with a 1.86 goals-against average and a .942 save percentage in 39 appearances this year.

ZIERDEN HEADED TO RIVER-FALLS: Alaska defenseman Teddy Zierden, 20, has committed to the University of Wisconsin-River Falls (NCHA) for next season. In 54 games this year, the Sartell, Minn., native has a goal for nine points.

BARTUS BUZZING: Mahoning Valley goaltender Garrett Bartus, 18, turned back 71 of 76 shots last weekend as the Phantoms skated to a two-game split with Alpena. "Garrett played very well for us this weekend," said Phantoms coach-GM Bob Mainhardt. "He gave us a chance to win both nights."

RELOCATION OF MEMBERSHP APPROVED: The NAHL's Board of Governors has approved the relocation of BAM, LLC's membership to the Detroit area for the 2008-09 season. BAM currently owns and operates the NAHL's Southern Minnesota Express.

MOHLER DECIDES ON UTICA: Second-year Springfield forward Steve Mohler, 21, has committed to Utica College (ECAC West) for next season. The Anaheim, Calif., native has 19 goals for 41 points after 39 games this year.