RoadRunners celebrate South Division crown
April 1, 2008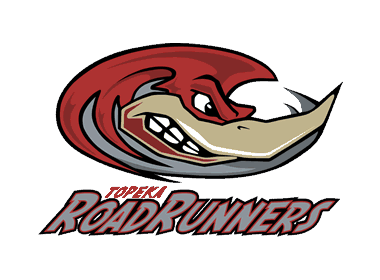 Read the full NAHL Weekly Release.
The feel-good storylines continue to resonate out of Topeka, as the RoadRunners, who moved to Kansas' capital this season after playing three seasons in Santa Fe, N.M., locked up their first-ever NAHL South Division regular-season title last weekend.

"The growth and development of this year's team has been fun to watch," said RoadRunners coach-GM Scott Langer, whose club finished the regular season with a 39-11-8 mark. "We started this season on a bit of a roller coaster and ended as the winningest team in franchise history."

Topeka wrapped up its regular season with a pair of wins in Texas, starting with a 5-3 triumph over the Tornado on Friday. Reed Seckel tallied two goals and an assist in the win, while Corey Jendras added a goal and two assists. Between the pipes, goaltender Bryce Merriam made 18 saves.

Eriah Hayes' third hat trick of the season lifted the RoadRunners to a 4-1 win over the Wichita Falls Wildcats on Saturday. Josh Kamrass connected for the other Topeka marker, and goaltender Lyle Rocker steered aside 27 shots.

"We lost a lot of key players from last year's team, and to have the first-year players and veteran leadership that we do is what's taken us a long way," said Langer.

So has the local support. With a 22-4-1 mark at the Kansas Expocentre this season and an average attendance of over 1,500 a game, there's no question the fans have played a major role in the team's good fortunes.

"The local fan base has been phenomenal," said RoadRunners director of media relations-broadcasting Arch Ecker. "Our guys get a measurable charge out of playing for this town. The fans have really been a seventh man when we play at home."

Langer recalls a late October weekend as a turning point in the season. After dropping a frustrating 3-2 decision to the Wildcats on a Friday, Topeka rebounded with a 2-1 win the next night, kicking off a six-game winning streak.

"That night I truly believe was the point in the season where this group never looked back," said Langer. "These players have been on a mission ever since and now we're looking forward to heading into the playoffs.

"There's no doubt we know the playoffs are a whole new beast, but if we continue to battle and work the way we ended the year, success will follow."

Langer credits all of his first-year players for rising to the occasion this season, as well as veterans like Kamrass, Jendras, Merriam, John Stoddard and Aaron Gens.

"They've all evolved into the leaders this team lacked a year ago," said Langer. "Our success this season is directly related to these players' ability to live and learn from the past and lead this team day in and day out. They're exceptional at making everyone feel part of our family."

Merriam, for one, has made marked strides. Now in his third NAHL season – he began his junior career with the Mahoning Valley Phantoms - the 20-year-old from Pittsburgh finished the regular season as one of the league's top goaltenders.

"Bryce has been one of the hardest-working goaltenders I've had here," praised Langer. "He continues to improve everyday. He's matured into a very solid goaltender with a ton of upside.

"What I like about him is that he cares more about the wins than the rest of his numbers. He brings experience in the nets and we'll look for that in the next few weeks."

The RoadRunners' on-ice success is also leading to good news on the college front. With Eric Artman (Air Force), Gens (Alaska-Fairbanks) and Jendras (Connecticut) already committed, a number of other RoadRunners are weighing their options for next season.

"Without getting too specific, I can say that yes, we have players in discussions with schools and have visits and financial considerations being examined," said Langer. "Some players have turned down offers in anticipation of better ones.

"We have a young team, and we feel comfortable that the majority of our players will achieve their personal educational goals."

Regardless of what the RoadRunners do in the postseason, Langer is nothing short of proud of what his charges have accomplished this year.

"Our season has been a success, no matter the finish," said the coach. "These players are winners and that's the biggest thing to me."

Not that he's counting out a trip to the Robertson Cup Championship, which crowns the NAHL champion and USA Hockey's Tier 2 Junior A national champion.

"There's no doubt this team is capable of big things and we believe St. Louis is a possibility," said Langer, whose team finished the regular season on a 9-0-1 run. "One thing we've been good at as a team is not looking ahead; we take everything one game at a time. We won't change a thing."

First up for the RoadRunners is a divisional semifinals series date with the Tornado, which finished fourth in the South Division this season.

"Texas is a deep team," said Langer. "We'll need to play a very energetic disciplined game.

"I expect this series to be pretty tight every game."
AROUND THE NAHL
PLAYOFF SCHEDULE ANNOUNCED: The NAHL has announced the schedule of the best-of-five divisional semifinals series of the Robertson Cup Playoffs. See the complete schedule at nahl.com.

KAVAYA HEADED TO WESTERN MICHIGAN: Fairbanks defenseman Peter Kavaya, 21, has committed to Western Michigan University (CCHA) for next year. Now in his third NAHL season, Kavaya, from San Clemente, Calif., finished the regular season with six goals for 27 points in 56 games.

MOSS SHATTERS NAHL RECORD: North Iowa goaltender Robby Moss, 20, set an NAHL record for highest save percentage in a regular season (.941). The previous record was held by Bozeman Icedogs netminder Matt Dalton, who fashioned a .940 mark in 2005-06.

BIG WEEKEND FOR BONNETT: Mahoning Valley defenseman Trent Bonnett, 20, picked up three assists last weekend as the Phantoms ended their regular season with a two-game sweep over the U.S. Under-17 Team. "Trent continues to come up huge for us defensively," said Phantoms assistant coach Curtis Carr. "We always put him up against the opponent's top line and he excels. He's a big part of our team."

NAHL, SHERWOOD EXTEND AGREEMENT: The NAHL has agreed to a two-year contract extension with Sherwood Hockey, the Official Equipment Supplier of the NAHL. As part of the agreement, Sherwood will be recognized as the title sponsor of the NAHL Showcase, Top Prospects Tournament and Futures events. It will also continue to sponsor the NAHL Player of the Week awards.

STRONG FINISH FOR KRAMER: Bismarck goaltender Jake Kremer, 19, ended his season with a 49-save shutout performance over Springfield on Saturday (1-0).

COOL HAND LUKE: Alexandria forward Luke Nesper, 20, has recorded points in his last 12 games (22). The Blizzard is 9-2-1 during that stretch.

AT IT A GENS: Topeka's Aaron Gens, 21, finihsed as the NAHL's top-scoring defenseman this year with 58 points.