3HL announces Combat Hockey 3 stars of the week
January 11, 2012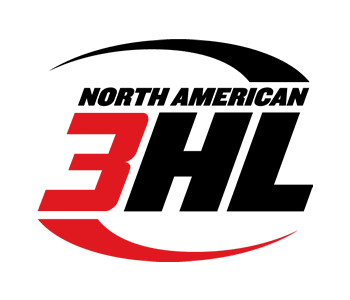 The North American 3 Hockey League (3HL) today announced the Three Stars of the Week presented by Combat Hockey for the week ending January 8, 2012. The Three Stars of the Week is a weekly feature during the 2011-12 regular season that honors the top performing players each week of the regular season as nominated by their respective teams.
1st Star: Patrick Sivets, forward, North Iowa Bulls
North Iowa Bulls forward Patrick Sivets, 19, helped the North Iowa Bulls split with the division-leading Granite City Lumberjacks this past weekend in two close games. For the weekend, the Medina, Minnesota native recorded five points (4 goals, 1 assist) in two games. On Friday, Sivets (6'1, 180) factored in on all three Bulls goals, including scoring twice and adding an assist, as the Bulls were edged, 4-3. The next night, Sivets scored twice, which were both consecutive shorthanded goals, as the Bulls ended up with a come-from-behind 4-3 win. Sivets is second in team scoring this season with 31 points in 31 games played for North Iowa. "Patrick's speed has enabled him to one of the best penalty killers in the league and that was on display this past weekend," said North Iowa head coach Todd Sanden. "He has played really well recently and has created great chemistry with his linemates that has translated into success."
2nd Star: Brandon Perillo, goaltender, Chicago Hitmen
16-year-old goaltender Brandon Perillo won both games he started this past weekend in a home series against the Quad City Jr. Flames. For the weekend, the St. Charles, Illinois native stopped 67 of a possible 72 shots, good for a 93.1% save percentage. On Saturday, Perillo (5'8, 165) made 33 saves, including 14 in the 3rd period alone as Chicago edged Quad City, 4-3. The next day, Perillo was even better making 34 saves in a 4-2 win over the Jr. Flames. Perillo is on a roll at this point in the season, having won his last six starts for Chicago. "I thought Brandon was very sharp in the games, especially following the holiday break," said Hitmen head coach Brent Dolan. "He battles and works very hard and does everything he can to stop the puck. He got better in each game this weekend."
3rd Star: Alexander Turin, forward, Peoria Mustangs
Alexander Turin, 17, earned third star of the week honors for his contributions in the Mustangs weekend split with the Twin City Steel. On Saturday, the Ballwin, Missouri native scored the Mustangs final two goals of the game, including the game-winner as Peoria beat the Steel, 3-2. On Sunday, Turin (5'10/165) assisted on two of the Mustangs three goals, as they were edged by the Steel, 4-3. The individual weekend performance by Turin was his best of the season. Turin is 5th on the Mustangs roster in scoring this season with 16 points in 29 games played. "Alex has been a big addition for us after coming back from his injury," said Mustangs general manager Jean-Guy Trudel. "He came back with great attitude and plays with a physical edge. He is a good young player that has a great chance of getting to the next level."
Other players nominated were (alphabetical order): Matt Bartels, goaltender, North Iowa Bulls – Tony Buchal, defenseman, Quad City Jr. Flames – Jared Fielden, forward, Quad City Jr. Flames – Jordan Frasse, forward, Queen City Steam – Marshall Helton, forward, Michigan Mountain Cats – Richard Jansson, forward, Flint Jr. Generals – James Koonce, forward, Michigan Mountain Cats – Chris Lozinak, forward, Chicago Hitmen – Lucas McCammant, forward, Queen City Steam – Ken Miloser, defenseman, Flint Jr. Generals – Michael Parda, goaltender, Peoria Mustangs – Nicholas Randazzo, forward, Pittsburgh Jr. Penguins – Joe Skrzynski, forward, Toledo Cherokee - James Steele, forward, Toledo Cherokee – Tyler Stepke, goaltender, Pittsburgh Jr. Penguins – DJ Vold, forward, Granite City Lumberjacks.