Beleski and Shier sign NAHL tenders
January 20, 2012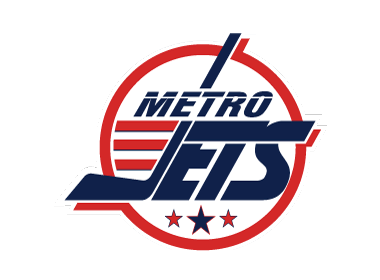 The Metro Jets of the 3HL announced that forward Josh Beleski has signed a tender agreement with the NAHL's Jamestown Ironmen and Will Shier has signed a tender agreement with the NAHL's Kalamazoo Jr. K-Wings of the North American Hockey League, both for the 2012-13 season.
"Jamestown's chief scout, Dwayne Smith, who I've known a long time, had been in touch with me asking how Josh had been playing," explained Metro coach Jason Cirone. "I told him he'd been improving and that he was a player I could see playing at the North American Hockey League level next season. Josh picked a heck of a game to score a hat trick on Sunday with Dwayne in the stands and he approached Josh after the game with the tender and he signed it on the spot."
"Being offered a tender after a recent game was a little unexpected," said Beleski, an 18-year-old from Southgate. "I saw Dwayne Smith in the stands watching what turned out for me to be a highlight game. To be honest, there was a lot of information to absorb in a short period of time and it is still sinking in, but making the decision to sign did not take long. It is a great opportunity for me and I was not going to pass it up."
This season, Beleski is seventh in Jets scoring with 12 goals and 11 assists for 23 points. Beleski was actually drafted by the Jets in 2010 and made the team, but chose to go back and play his senior year of high school for Southgate Anderson High School. This season, he looked at what the Jets could offer and decided to take the opportunity.
"I thought Josh could have played in this league last year," said Cirone. "He made the decision to go play high school and we didn't push him. We respected his decision, but we stayed in touch and showed patience. This year, I think he's dedicated himself to being a junior hockey player and I don't expect him back with us next year. He's worked extremely hard and I'm extremely proud."
And while a tender doesn't guarantee Beleski a spot on the Western New York-based Ironmen next season, he's planning to fine-tune some aspects of his game the rest of this season and into the spring and summer months.
"There are definitely things I need to improve on to become a better, well-rounded hockey player, but if I had to choose one, it would be my game away from the puck," said Beleski. "Jamestown is definitely a stepping stone and one I look forward to taking. It has been a goal of mine to play college hockey and I know with hard work and determination good things will happen."
Beleski also said playing this season in Waterford has been rewarding and he credits Cirone for helping to boost his game to the point where the NAHL has taken notice.
"Playing juniors has been a great experience and Jason is a great coach," beamed Beleski. "With his knowledge and commitment, he has taught me a lot this year. My confidence is the highest it has been in a long time and I feel with hard work that I can achieve greater things."
Meanwhile, Shier remarked on his process, "The head coach of Kalamazoo, Marc Fakler, approached me after my second game of the 3HL Showcase in Chicago (in December)," explained Shier, a 19-year-old from Sterling Heights. "He told me he had been watching me closely and he thought my game has improved greatly since the pre-draft camp last summer, and that a step up to the NAHL next season would be good for me."
Fakler then invited Shier to Kalamazoo the following week to show him the rink and the city and to meet the team staff. "I thought the facility (Wings Stadium) was amazing and the staff was great, so when I was offered the tender, I gladly accepted," said Shier, the Jets' top-scoring defenseman with 14 points in 30 games. "I have been watching the team and I think their record speaks for itself. Being a first-year team and doing as well as they are shows that Kalamazoo is a top-notch organization with excellent coaching. I definitely want to be a part of that next season."
Metro coach Jason Cirone said when the Jets acquired Shier last season from the Yellowstone Quake of the Northern Pacific Hockey League, he saw potential for Shier to be a big-time player with the Jets. "When we got Will, I noticed a few things he needed to work on and to his credit, he's done everything I've asked and has evolved into a dominant defenseman in this league," said Cirone. "I just tweaked a few things, but Will is the one who went out and did all the work. He gets all the credit for what he's accomplished. He plays more than 30 minutes a game for us and I see him making a major impact next season with Kalamazoo."
Earlier this season, Shier earned a call-up to the NAHL's Port Huron Fighting Falcons and took notice of what goes into being an NAHL-caliber player. "After playing a few NAHL games, I now know what the league is all about and what is expected of its players," Shier said. "I have been working hard to improve every aspect of my game and will continue to push myself to get ready for next season. With the help of Coach Cirone, I am confident I can step in and make Kalamazoo's lineup next season.
"It was an easy decision to come back this year and play for the Jets again. I knew this would be the best place for me to work on my game and also be seen by scouts. Jason is constantly helping me fine-tune my game and I credit him with getting my game to where it needed to be to receive this opportunity. The NAHL produces some of the top junior players and through hard work, I believe I can join that group of players."