3HL announces Combat Hockey 3 stars of the week
January 24, 2012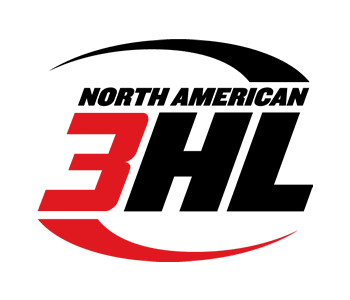 The North American 3 Hockey League (3HL) today announced the Three Stars of the Week presented by Combat Hockey for the week ending January 22, 2012. The Three Stars of the Week is a weekly feature during the 2011-12 regular season that honors the top performing players each week of the regular season as nominated by their respective teams.
1st Star: Bryan Hovanec, forward, Pittsburgh Jr. Penguins
It was an important weekend for the Pittsburgh Jr. Penguins and 17-year-old forward Bryan Hovanec. The native of Pittsburgh, Pennsylvania, helped the Jr. Penguins to a weekend sweep of the Metro Jets to get their record back to .500 and move just six points behind the Jets for 3rd place in the East Division. On Saturday, Hovanec (6'2/180) recorded Pittsburgh's first goal of the game in a 6-2 win. The next day, Hovanec scored again and added three assists (including assisting in the game-winner) in a 7-2 win. For the weekend, Hovanec had five points (2 goals, 3 assists) in two Pittsburgh wins. "There is no doubt they were big wins for us and Bryan was a big factor," said Jr. Pens head coach Brian Cersosimo. "Bryan has great hand and vision of the ice and I think everyone is starting to buy into playing better defense, which is giving us some success."
2nd Star: James Koonce, forward, Michigan Mountain Cats
18-year-old forward James Koonce produced nine points (7 goals, 2 assists) in two weekend wins over the Battle Creek Jr. Revolution. Both wins came on the road in Battle Creek. The native of Lake Orion, Michigan struck for four goals on Friday, including the game-winner, in a 6-0 shutout win. On Saturday, Koonce (5'8/170) recorded a hat-trick and added two assists for a five-point night as Michigan completed the sweep with a 9-0 win. Koonce leads the Mountain Cats in scoring this season with 44 points in 30 games. "James has been our best and most consistent point producer all year," said Michigan head coach Chad Grills. "He has a lot of maturity for his age and he is quick on his feet and has great stick skills."
3rd Star: Patrick Gregory, forward, St. Louis Jr. Blues
In the Jr. Blues sweep this past weekend of rival Quad City, no one may have come up with a better performance in the series than St. Louis forward Patrick Gregory. The 20-year-old recorded four points (3 goals, 1 assist) in the weekend wins. On Saturday, Gregory assists in the Jr. Blues second goal of the game in a 3-2 win. On Sunday, the St. Louis native recorded a hat-trick, including the game-winning goal in a 4-2 win over the Jr. Flames. Gregory (5'10/180) is second on the team in scoring with 34 points in 26 games played. "Patrick is playing like a veteran and really scoring some big goals for us," said St. Louis head coach J.P. Beilsten. "It was nice because we have recently struggled with Quad City, so getting two wins was a real confidence builder. He had success because he played two-way hockey and kept his composure."
Other players nominated were (alphabetical order): Matt Bartels, goaltender, North Iowa Bulls – Cameron Brown, forward, Peoria Mustangs – Michael Czupryn, goaltender, Peoria Mustangs – Cody Damon, forward, Flint Jr. Generals – Matt Duncan, forward, Queen City Steam – Mitchell Fernsler, goaltender, St. Louis Jr. Blues – Drake Fisher, forward, Quad City Jr. Flames – Chris Hellebuyck, forward, Metro Jets – Steve Heller, forward, North Iowa Bulls – Richard Jansson, forward, Flint Jr. Generals – Blake Koosman, forward, Twin City Steel – Alexander Lysyuk, forward, Pittsburgh Jr. Penguins – Dylan Martin, goaltender, Michigan Mountain Cats – Joe Olen, goaltender, Chicago Hitmen – Taylor Penman, defenseman, Queen City Steam – Tyler Pionk, forward, Minnesota Flying Aces – Taylor Portner, forward, Granite City Lumberjacks – Will Shier, defenseman, Metro Jets – Corey Sikich, defenseman, Quad City Jr. Flames – Paul Sorenson, defenseman, Minnesota Flying Aces – DJ Vold, forward, Granite City Lumberjacks.