Jets duo headed off to play in NAHL
January 26, 2012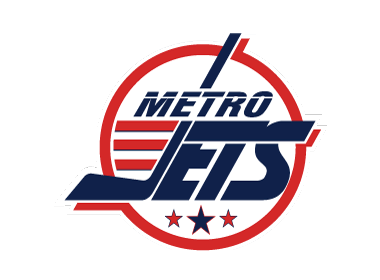 Chris Hellebuyck will at least know one person in Odessa, Tex.

The Metro Jets' forward is moving up to the North American Hockey League with the Odessa Jackalopes, a team his younger brother, Connor, plays for as the squad's No. 1 goaltender.

Hellebuyck leaves the Jets as the team's third-leading scorer with 21 goals and 40 points, also tied for the team lead in goals with Steve Klisz. He tallied 11 multi-point games, including a four-point outing on Sept. 9 against Flint.

"Hellebuyck is the perfect example of what hard work can do for a player," said Metro coach Jason Cirone. "He plays in every situation and the rest of the guys follow his lead. He's a leader on the ice and in the locker room and that's a credit to him."

Playing alongside Connor is something Chris hasn't done since both played at Walled Lake Northern when Connor was a junior and Chris a senior. The duo also played on the same Mite team years back.

"My brother had a big part in my opportunity with Odessa by letting them know about me, but I think they also had noticed that I was having a good season so it all fit together well," said Hellebuyck, a 19-year-old Commerce Township native. "It was nice having options, but I the situation with Odessa made me pretty excited. Connor has told me a lot of great stuff about their program and the chance to play with him again will be awesome."
Cirone said he was consistently fielding calls from NAHL teams about Hellebuyck over the course of the season.

"There were several other teams that wanted Chris, but they just weren't the right situation," Cirone said. "I know (Odessa coach) Paul Gillis is a heck of a coach and does things the right way and I know the fans in Odessa are crazy about their hockey. I saw that firsthand when I would go in there a few years back when I played (in the Central Hockey League) for Rio Grande Valley. I think it will be an excellent situation for Chris."

Drafted twice by the Jets (in 2010 and again in 2011), Hellebuyck said he couldn't have made the jump to the NAHL without his stint in Waterford.
"I learned a lot from Jason this season, including a lot of the little things that I'll be able to take with me to the next level," explained Hellebuyck. "It was great to have a coach like him and I have added a lot of the small things to my game so far. There will be a lot that I will miss leaving Metro, but I think the hardest part of leaving will be parting with my current teammates and coaches.

"It's a great program and I owe a lot to everyone involved."
Zach Mohr is one of the latest Metro Jets player to earn a promotion to the North American Hockey League as he was traded to the Wichita Falls Wildcats late last week and played in both games for the Wildcats over the weekend.

Mohr actually started the year in the NAHL with the Port Huron Fighting Falcons before joining the Jets in early November. Mohr tallied eight goals and eights assists for 16 points in 14 games with Metro. He went without a point last weekend as the Wildcats swept Corpus Christi in a battle of Texas-based teams.

"It's a great feeling to get another shot at the NAHL," said Mohr, a 19-year-old forward from Novi. "I'm going to try and make the best of it. My expectations are to come down here and try to contribute to the team every shift I get."

Jets coach Jason Cirone, who has seen several players over the past 10 days make commitments for next year, knows Mohr will have a good showing in Wichita Falls.

"Zach was a really good player for us and I think he really fit in did everything we asked of him," said Cirone. "I thought from the beginning when he came here that he was an NAHL-caliber player and in a good way, I hope he doesn't come back here. He worked hard and earned this opportunity."

Mohr said in the two-plus months he was in Waterford, he learned what it will take to keep his hockey progression moving upward.

"Jason is a great coach and it's obvious to everyone that he knows his stuff and moves players to the next level," said Mohr. "The thing I learned from Jason was to trust my shot and keep my feet going at all times. I

"'I'll miss the guys the most. Every day I was there, it was fun and to me, that's what it's all about."