3HL announces Combat Hockey 3 stars of the week
January 31, 2012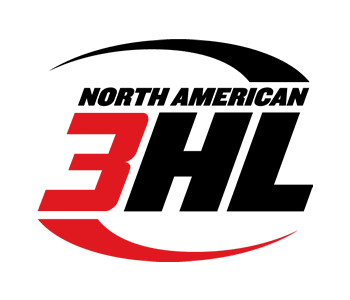 The North American 3 Hockey League (3HL) today announced the Three Stars of the Week presented by Combat Hockey for the week ending January 29, 2012. The Three Stars of the Week is a weekly feature during the 2011-12 regular season that honors the top performing players each week of the regular season as nominated by their respective teams.
1st Star: Nikolas Sakellaropoulos, defenseman, Peoria Mustangs
Rarely has a defenseman put up the performance that Mustangs defenseman and captain Nikolas Sakellaropoulos, 18, did this past weekend, but the Tinley Park, Illinois native had a couple of games to remember as he led his Mustangs to a sweep over the visiting Minnesota Flying Aces. Sakellaropoulos (6'0/180) totaled four points (2 goals, 2 assists) in the weekend sweep of Minnesota, keeping their sights on 2nd place in the Central Division. On Saturday, the blueliner scored Peoria's first goal in a 6-3 win. On Sunday, Sakellaropoulos really shined with the game-winning goal midway through the game and two assists in a 5-2 win. Sakellaropoulos leads all Mustangs defensemen in points with 15 this season. "Nick has been playing great lately and brings a lot of leadership to the lockerroom for a younger player," said Mustangs GM Jean-Guy Trudel. "His defense is his strong suit, but he had a great weekend at both ends of the ice, and it is nice to see a player of his caliber and determination get recognized."
2nd Star: Bryan Hovanec, forward, Pittsburgh Jr. Penguins
There may not be a player hotter in the 3HL than Pittsburgh forward Bryan Hovanec. For the second consecutive week, the 17-year-old from Pittsburgh, Pennsylvania, has been honored as one of the league's three stars for his part in Pittsburgh's weekend sweep of Toledo. Hovanec (6'2/180) totaled seven points (5 goals, 2 assists) in two games as the Jr. Penguins moved their winning streak to five straight games. On Saturday, Hovanec had a goal and two assists in a 5-3 win over the Cherokee. On Sunday, Hovanec tied a 3HL single-game high with four goals in a resounding 9-3 win. Hovanec is second on the team in scoring with 38 points in 34 games played and has registered 12 points in his last four games. "Bryan carried the momentum from the week before in the games with Toledo and is going to keep getting better as he keeps playing and getting experience," said Jr. Pens head coach Brian Cersosimo. "He does so many things well for a player who just turned 17-years-old."
3rd Star: Richard Jansson, forward, Flint Jr. Generals
Flint Jr. Generals forward Richard Jansson, 19, was honored as this week's third star, not only because of his point production in a weekend home sweep of the Battle Creek Jr. Revolution, but mainly because of the timeliness of his goals. The native of St. Pauli, Sweden recorded six points (4 goals, 2 assists) in the two wins. More impressive however, was the fact that both game-winning goals on Saturday and Sunday came off Jansson's stick. Jansson (6'1/180) now shares the 3HL lead with seven game-winning goals this season. Each night, Jansson recorded two goals and an assist in wins of 7-2 and 7-0. With 51 points this season, Jansson leads the Jr. Generals in scoring and is 5th in 3HL scoring, just five points behind the leader. "Richard is a very competitive person and scores big goals at big times, and that was true again this weekend," said Flint head coach Jeff Worlton. "He treats every game the same way and approaches every opponent the same way. He is very determined to succeed as a player and get to the next level."
Other players nominated were (alphabetical order): Mike Baker, forward, Toledo Cherokee – Trevor Beck, goaltender, Battle Creek Jr. Revolution – Alex Berardinelli, forward, Pittsbugh Jr. Penguins – Bobby Chapman, forward, North Iowa Bulls – Matt Duncan, defenseman, Queen City Steam – Schuyler Ferguson, goaltender, Michigan Mountain Cats – Josh Foster, forward, Michigan Mountain Cats – Skylar Harding, forward, North Iowa Bulls – Robert Hintz, forward, St. Louis Jr. Blues – Tanner Jones, goaltender, Quad City Jr. Flames – Dillon Kelley, goaltender, Metro Jets – Steve Klisz, forward, Metro Jets – Joey Lioy, forward, Battle Creek Jr. Revolution – Mike Meadows, goaltender, Quad City Jr. Flames – Gary Neill, forward, Toledo Cherokee – Jim Odom, forward, Flint Jr. Generals – Michael Parda, goaltender, Peoria Mustangs – Clint Steinmeyer, goaltender, St. Louis Jr. Blues – Trevor Voelker, forward, Queen City Steam.