Toledo Cherokee continue winning and developing
February 2, 2012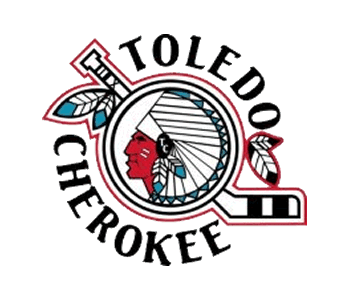 By Mark Monroe, Toledo Blade
In West Toledo, a local junior hockey team has employed an up-tempo, high-scoring style to skate out to a terrific start this season. The Toledo Cherokee, a Junior A team, have compiled a 22-12-2 overall record and lead their division by 14 points. The Cherokee have scored an average of 4.4 goals per game.
"We have an incredibly skilled and fast team," head coach Scott Syring said. "Offensively, we are very talented, and we have defensemen who are good at moving the puck."
The Cherokee compete in the North American 3 Hockey League. It is a Tier III Junior A league sanctioned by the sport's national organization, USA Hockey. The team's players range in ages from 16 to 20 and their goal is to move up in the junior ranks or earn a spot on a college team. Some are still in high school and others attend college during the season, which runs from September through March.
The Cherokee, which play their home games at Team Toledo Ice House on Alexis Road, have a 15-3-2 record on home ice. Toledo is 14 points ahead of Queen City, a junior team based in Cincinnati, in the North Division of the NA3HL.
The Cherokee's offensive prowess extends up and down the bench. They've scored 156 goals in 36 games. "We have a lot of balance," Syring said. "We're very deep. We want to play four lines and wear teams down and make it difficult to match up against us." The bulk of the team's roster consists of players from Ohio and Michigan. The Cherokee have gotten key contributions from six locally based players.
The team's top goalie is Toledoan Austyn Roudebush. Last season at this time, Roudebush was a senior at Whitmer backstopping for the Panthers. Roudebush has played in 20 games for his junior team this season. He has a 10-8-0 record with a 3.28 goals against average and .880 save percentage.
"It is really intense, and it's a lot more competitive [than high school hockey]," Roudebush said. "It's the same shots, but they're from older kids, so they're harder." Roudebush earned All Northwest Hockey Conference second team honors last season. "He is an extremely athletic goalie," Syring said of his 6-foot-2, 180-pound netminder. "He has a big frame, and he is tall. But he makes a lot of athletic saves. He has all the tools to move up to the higher levels."
Roudebush said he believes his play has steadily improved. "It started off slow at first, but it's getting better," Roudebush said. "And it has been good lately. I plan on keeping it up."
Last season, the Cherokee finished sixth in the league and lost in the first round of the playoffs. "We were disappointed in how we finished," Syring said.
Syring has only three returning players this season. Usually about half of the team members come back. Two of the returning players, Joe Skrzynski and James Steele, are Toledo's leading scorers. Skrzynski of Flat Rock, Mich., ranks third in the league in scoring with 49 points (23 goals and 27 assists). Steele of Lincoln Park, Mich., has 18 goals to go along with 27 assists.
"Jimmy and Joe are our two veterans. They were in the middle of the pack for us in scoring last season," Syring said. "So this is what you expect with one year of experience."
Read the rest of the story here.