Battle Creek building from the ground up
February 12, 2012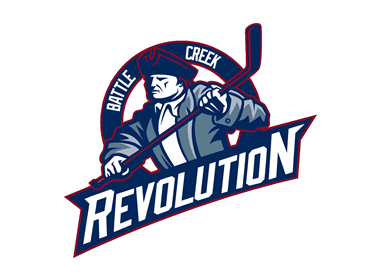 By Will Kowalski, The Enquirer
Dr. Joseph Burkhardt and Richard Keyes are not magicians.But both are doing their best to bring that magical feeling back to the Cereal City's ice hockey and skating scene - now and in the future.
A big part of that plan has been the continued growth of the Battle Creek Junior Revolution, a franchise that is struggling to get wins, but is still going in the right direction. The Junior Revolution hockey team is a Junior A/Tier III-level franchise that became a member of the highly-acclaimed North American 3 Hockey League last year. That team, plus a renewed emphasis on more skating programs at Revolution Arena (The Rink), is helping to build interest in the community.
"It's a slow process, but it's going in the right direction. The Junior Revs have provided an outlet for local youth to keep on playing instead of leaving to play somewhere else. The Learn To Skate programs have been getting better and better numbers of kids involved, and we're starting to get more community support and community financial support from people who can see that what we're doing is good for everyone concerned," said Burkhardt, a local orthopedic surgeon. "The way I see it, if it's good for the community, then we all benefit.''
Also included in the plan has been renovations made inside and outside of the arena, with new lighting and a new paint job inside the rink the most noticeable this year. And as importantly, the hiring of Keyes - a former star player both collegiately and professionally who in more recent years ran successful ice hockey and skating services in Kalamazoo - as head coach of the Junior Revs as well as director of Battle Creek's on-the-ice programs and operations manager of Revolution Arena.
Keyes' Junior Revs are still seeking their first taste of victory this season, currently owning a record of 0-41-0-0. The team is made up of players ages 16-20, who hope to move up to higher Junior A and collegiate levels. But Keyes said he and his players continue to believe in what they're doing, that the players are continuing to learn and improve, and that his players love being among the volunteer teachers in the Learn To Skate program.
Read the rest of the story here.