Voelker's passion for hockey goes full Steam ahead
March 13, 2012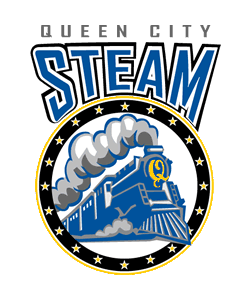 By John E. Schuster, Columbus Local News
Trevor Voelker has been playing ice hockey since he was 6 years old and wanted to continue playing through high school, but iceless Grandview made that difficult.
So the Grandview resident tried out for and made the North American Tier 3 Hockey League (3HL) team in Cincinnati and has been able to continue playing top flight hockey.
"I tried out for the Queen City Steam and was really surprised when I got the call that I had made the team," Voelker said of his opportunity to play at the NA3HL level.
As a high school junior, Voelker is among the youngest on his team that ranges in age from 17 to 21.
"The coach told me as a rookie I might not get to play as much," he said, but his ability earned him ice time in 44 of the Steam's 48 games.
Voelker plays right wing, an offensive position and displayed his skill this past weekend in a two-game set against the North Division rival Michigan Mountain Cats. He scored a goal in the first game, a 3-0 win, and tied the contest, netting two scores Saturday, March 10, which Queen City won in overtime, 3-2.
"We have had trouble with Michigan in the past, but I think these games showed we are hitting our peak right now, which is good," Voelker said as the two teams prepare to meet again in the first round of the league tournament, beginning Friday, March 16, in Cincinnati.
A personal highlight was a three-goal hat trick earlier in the season, adding to his team-leading 23 goals and 15 assists.
Usually a team will play its best players on the first line, the skaters who start the game, but Voelker jumps on the ice as a member of the second line. Unlike other sports, this second group does not comprise the "second string."
"I have trouble starting games; I prefer coming off the bench so I asked the coach earlier in the year for a position on the second line and he agreed to do it," Voelker said.
The 6-1, 180-pounder considers himself a power player and has not had his slap shot timed recently. He said his offense is predicated on his ability to be in the right place at the right time.
"I'm not the prettiest player on the ice so I want to improve my strength since I'm not physically imposing, either.
"My teammates can usually get the puck to me in good situations and I am able to convert the opportunities."
Read the rest of the story here.