A magical ride for Flint Jr. Generals
March 15, 2012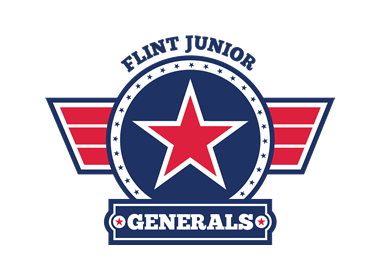 Well to say that the past season was a historical let alone magical ride would be quite an understatement. With a Franchise record for wins, points and winning percentage under the Gmen's belts it would be easy for to rest on their laurels. But in this proud franchises 13th year of existence with these accomplishments in place. Coach Worlton's troops are gearing up for a to be sure hard-fought run in the upcoming 3HL playoffs.
Some of Coaches thoughts are that the boys "put an extreme effort on an off the ice" they "believed in their coaches message" also " it feels real good winning the regular season but the bigger picture is winning the playoffs" lastly he is extremely proud of the efforts "of all the staff from top to bottom."
On the ownership side our fearless leaders need recognition. Gale M Cronk has been around Flint hockey circles for over 6 decades spreading goodwill and a great message to all the players who have come and gone from our EMHA programs which we are proud to be associated with for all these years to see him beaming with admiration is the carrot we have been looking for. Onto the other side of the ownership duo Kelly Cronk is our go to guy. Without these 2 guys the Jr. Generals would not have the success we have enjoyed this year.
Highlights from this magical ride-
73 points- Overall league title
35 wins- League high- Franchise record
8-0 record at two 3HL Showcases
35-10-3 record- Best winning percentage in franchise history
On a personal note from Kelly, he would like to thank the many volunteers who donate their time on most home games without their generosity it make for a long night they are: Mike Crowder, Tami Bailey, Jim Goettel, Dave Odom, Jim Orlando, Bob Dmytro, Gabby Guzak, Zoe Guzak, Robin and Dan Jewell and especially Wes Bond. THANKS!