Flint captain Lay makes NCAA commitment
July 20, 2012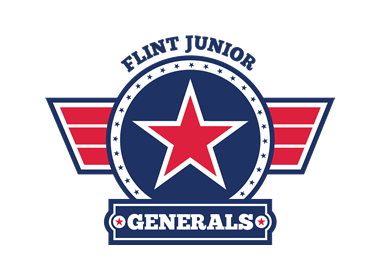 The Flint Jr. Generals of the 3HL are proud to announce that the captain is taking his talents to Wisconsin. Andrew Lay is going to attend Lawrence University and play for the Vikings next year.
The Generals take note of Andrews's accomplishments but most importantly his successful two-year stint in the Blue & Gold. Coach Worlton notes that, "Andy was a coach's dream as a leader in the locker room and on the ice." He also takes pride in his "substantial development at both ends of the ice".
GM & Owner Kelly Cronk notes that, "Andy being our local product makes the Flint area proud also." Taking into account these accomplishments and the leadership Andy exhibited was a joy in our run last year. In no small part could this be overlooked by his teammates.
Andrew stated, "None of this would be possible without the solid support from my dad, Greg and mom, Helene," also "Head Coach Mike Szkodzinski and Coach Kalle Larsson made the transitions required easy at this beautiful Appleton, Wisconsin school. Not to mention the action packed rivalry I witnessed between Adrian and Lawrence and the level of play just made me even more excited to get to work. The hockey program and the high levels of academics also stands out on my visit which was a must for me and my parents. It is with a great deal of pride that I get the honor to make this commitment to this fine institution."
Andrew also states on a personal note how much he appreciates the immense support from the entire Jr Generals family especially Coach Worlton, Coach Guzak Coach/GM Kelly Cronk and Director of Scouting Doug Bailey.
With all this being said and done the Jr Generals family is proud to say well done Andy. Work hard and be successful to carry on the proud tradition of fine college players coming from the Jr Generals.