3HL prepares for busy month of August
August 1, 2012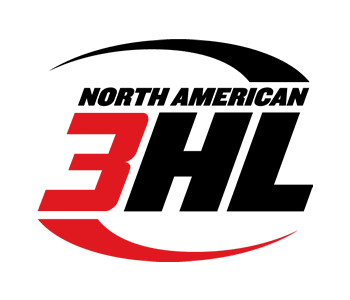 August is shaping up to be a busy month for the teams in the North American 3 Hockey League (3HL). Now entering its third season, the 3HL is one of six USA Hockey-sanctioned Tier III Junior leagues, serves as one of the top training grounds in the country by providing the best coaching, exposure and developmental vehicles available for student-athletes in its classification.
This past season was another successful one for the 3HL as over two dozen 3HL players signed tenders or were drafted to play in the NAHL this upcoming season. On top of those numbers were the several 3HL players who were called up to the NAHL during the season. This is on top of the dozens of 3HL players that moved onto NCAA or ACHA collegiate programs.
See a list of 3HL player advancement here.
In late July and early August the majority of 3HL teams will be holding their final tryout camps as they make their roster decisions for the 2012-13 season. The regular season begins on Saturday, September 8th with three games. Each 3HL team plays 48 regular season games, followed by the Silver Cup playoffs, which will begin in mid-March of 2013.
This season also includes two 3HL Showcases that will feature all 17 teams playing under one roof. The first will be from November 30th – December 3rd, 2012 in Blaine, Minnesota. The second Showcase will be from February 17th – 20th, 2013 in Troy, Michigan and will coincide with the NAHL Top Prospects Tournament.
Last season, the Flint Jr. Generals won the 3HL's regular season title, while the Granite City Lumberjacks captured the 3HL's Silver Cup as playoff champion.
Beginning on August 22nd the 3HL will debut their new series: 3HL 17 in 17. 3HL 17 in 17 in a series written exclusively for na3hl.com that will go in depth and preview all 17 3HL teams as they prepare for the 2012-13 season. Features include interviews with all 17 head coaches along with a look at each team's roster. 3HL 17 in 17 will also take a look back at the 2011-12 season, how each team fared and how they feel they can improve for the 2012-13 season.
The following is the schedule for the 3HL's 17 in 17 series:
Wednesday, August 22 – Alexandria Blizzard
Thursday, August 23 – Battle Creek Revolution
Friday, August 24 – Breezy Point North Stars
Saturday, August 25 – Cleveland Jr. Lumberjacks
Sunday, August 26 – Flint Jr. Generals
Monday, August 27 – Granite City Lumberjacks
Tuesday, August 28 – Metro Jets
Wednesday, August 29 – Michigan Mountain Cats
Thursday, August 30 – Minnesota Flying Aces
Friday, August 31 – North Iowa Bulls
Saturday, September 1 – Peoria Mustangs
Sunday, September 2 – Quad City Jr. Flames
Monday, September 3 – Queen City Steam
Tuesday, September 4 – St. Louis Jr. Blues
Wednesday, September 5 – Three Rivers Vengeance
Thursday, September 6 – Toledo Cherokee
Friday, September 7 – Twin City Steel