3HL 17 Teams in 17 Days series begins Wednesday
August 20, 2012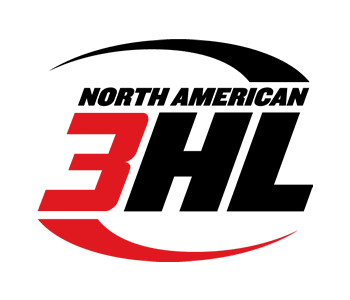 The North American 3 Hockey League (3HL) is pleased to announce a brand new series exclusively on na3hl.com, the 3HL Facebook page and Twitter, as starting on Wednesday, August 22nd the league will spend 17 days highlighting all 17 teams leading up to the first 3HL regular season game on September 8th in a series entitled '17 Teams in 17 Days.'
The 17 in 17 series will feature an in-depth look into all 17 3HL teams, with a new team being highlighted daily, leading all the way up until the start of the regular season on Saturday, September 8th as six 3HL teams take to the ice.
17 in 17 will go in-depth into each 3HL team and will include interviews with all 17 3HL head coaches, as they prognosticate and break down their rosters and schedule for the upcoming season.
It will also take a look back on the 2011-12 season and how each team fared and what they accomplished. Best of all, 17 in 17 is here to provide the fans of the 3HL with an insiders look at their favorite team and what to expect.
The 3HL season is just weeks away and the majority of 3HL rosters are complete. 17 in 17 will also provide fans with insight on key returning players and players that will be new to each team's roster.
The planned schedule of featured teams for the 17 in 17 series will be as follows (alphabetical order):
Wednesday, August 22 – Alexandria Blizzard
Thursday, August 23 – Battle Creek Revolution
Friday, August 24 – Breezy Point North Stars
Saturday, August 25 – Cleveland Jr. Lumberjacks
Sunday, August 26 – Flint Jr. Generals
Monday, August 27 – Granite City Lumberjacks
Tuesday, August 28 – Metro Jets
Wednesday, August 29 – Michigan Mountain Cats
Thursday, August 30 – Minnesota Flying Aces
Friday, August 31 – North Iowa Bulls
Saturday, September 1 – Peoria Mustangs
Sunday, September 2 – Quad City Jr. Flames
Monday, September 3 – Queen City Steam
Tuesday, September 4 – St. Louis Jr. Blues
Wednesday, September 5 – Three Rivers Vengeance
Thursday, September 6 – Toledo Cherokee
Friday, September 7 – Twin City Steel