Bobcats start home slate with sweep
September 29, 2008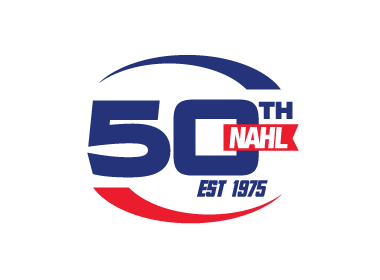 Read the full NAHL Weekly Release.
NAHL Weekly Release - After a sluggish 1-2-1 start to their season at the NAHL Showcase Tournament, the Bismarck Bobcats came alive last weekend treating their fans to a pair of wins over the Alexandria Blizzard.
"It was nice to get off on the right foot at home," said Bobcats head coach Byron Pool.
Bismarck opened its weekend with a 4-1 victory over the Blizzard on Friday. Cody Keefer and Nicholas Jensen (game-winner) each struck for two goals and an assist, with Jordan Singer and Josh Nelson recording two assists apiece. In goal, David Bosner turned aside 36 shots.
Goals from Jason Fabian and Jeffrey Harris (game-winner) lifted Bismarck to a 2-1 triumph the next night. Bosner was again solid between the pipes, making 31 saves.
"I really felt that we didn't play our best hockey at the Showcase; we were a little off and things weren't clicking," said Pool. "We went home and really had a tough week of practice and it was nice to see the guys rewarded for their hard work."
Pool was particularly impressed with his team's defensive play against Alexandria, as well as the special teams.
"There isn't too many weekends where you only give up two goals," he said. "I felt for the most part we really limited the chances that Alexandria had.
"That and our power play had a big night on Friday with three goals and we didn't give up a power-play goal all weekend."
And Bosner deserves much of the credit. The 19-year-old from Chesterfield, Mo., who was acquired late in the summer from St. Louis allowed only two goals againt against Alexandria as he upped his record to 3-0-1.
"He's been fantastic," said Pool. "We were looking for someone to take the No. 1 job and run with it and we gave him the opportunity to be that guy.
"Since he arrived he's been nothing but solid. His competitiveness level is off the charts and he's very focused. He gives us a chance to win every night."
Pool was also pleased to see the new forward combination of Keefer, Jensen and Singer generate offensive production in no time. The line connected for all four Bismarck goals on Friday night.
"We had trouble scoring goals in the Showcase, so we decided to throw all our eggs in one basket," Pool explained. "I like the early makeup of the line; they're big, they can skate and they're all pretty good offensively. It gives us a legitimate No. 1 line, but it was also nice to see our other lines score for us on Saturday."

Second-year defenseman John Clark, a 19-year-old from Baudette, Minn., has also impressed early on.
"He's been rock solid on our back end," said Pool. "He can kill penalties, play the power play and has played a ton of minutes for us. He's the leader of our hockey team and should have a great year."
After missing the postseason the last two years, the Bobcats like the prospects of this season's team. Continued improvement on the penalty kill and some added offense can't help but lead to more victories, according to Pool.
"It's early, but we're happy with our start," said the coach. "The work ethic of the players has been great; we've seen a lot of improvement since Day 1. If you have a good bunch of kids with a great work ethic, it gives you a lot to build off of and work with.
"For us, it's important that we continue to move forward and improve as a team," he said. "It'd be nice to see us do well so our players continue to gain confidence that they can compete with the top teams in our league."
The Bobcats will welcome North Iowa, the defending Central Division regular-season champions, to town this weekend. Bismarck has struggled against the Outlaws in recent years, but hopes to turn the tables this season.
"(North Iowa coach) Jeff (Crouse) has put together a very nice team; they're a highly-skilled, veteran team," complimented Pool. "North Iowa showed last year that it's one of the top teams in the NAHL, and with them hosting the national tournament this year, I'd expect them to be very strong again."
AROUND THE NAHL
ALASKA AVALANCHE: The Avalanche was idle after finishing 3-1 at the NAHL Showcase Tournament. It will play its next games in Kenai River on Oct. 10-11.
ALBERT LEA THUNDER: Mitch Torrel and Mark Ellis scored Albert Lea's goals in its 5-2 loss to Owatonna on Saturday. The Thunder is still searching for its first win of the season.
ALEXANDRIA BLIZZARD: Joe Knoepke scored the only goal in each of the Blizzard's two losses last weekend. "Joe has been playing very well for us," said Blizzard head coach Brad Willner. "He gets his goals from his hard work and tenacious play."
ALPENA ICEDIGGERS: The IceDiggers, who finished the Showcase Tournament at 2-2, had the weekend off and will play a home-and-home series with Traverse City this coming weekend.
BISMARCK BOBCATS: Nicholas Jensen connected for two goals, including the game-winner, and an assist in the Bobcats' 4-1 win over Alexandria on Friday.
FAIRBANKS ICE DOGS: The Ice Dogs were idle after a 1-3 Showcase Tournament start and will head to Kenai River for a pair of games this weekend.
KENAI RIVER BROWN BEARS: Kenai River, off to a 2-2 Showcase Tournament start, had the weekend off and will open its home schedule this weekend with two games against Fairbanks.
MAHONING VALLEY PHANTOMS: The 3-0-1 Phantoms, who were idle last weekend, will head to Motor City this weekend for a pair of games against the Machine.
MARQUETTE RANGERS: Goaltender Kevin Kissaw was solid between the pipes last weekend, stopping 69 of 75 shots as the Rangers split two games with Traverse City.
MOTOR CITY MACHINE: Nick Taurence (two assists) was the Machine's only multiple-scorer as it dropped a pair of home games to St. Louis last weekend.
NORTH IOWA OUTLAWS: The Outlaws drew over 1,000 in attendance for their home-opener on Friday night. "We couldn't be any happier, considering the summer-like weather and with about four different homecoming football games in the region to boot," said GM Steve Strasheim.
OWATONNA EXPRESS: Naperville, Ill., native Chris Bournazos picked up three points (two goals, one assist) as the Express went 1-1 last weekend.
SPRINGFIELD JR. BLUES: Jon Bobb, an Army recruit who played in Texas last season, connected for a goal and an assist as the Jr. Blues fell twice in Topeka.
ST. LOUIS BANDITS: Goaltender Erick Cinotti was perfect between the pipes on Saturday night, turning aside all 32 shots in the Bandits' 4-0 shutout of Motor City.
TOPEKA ROADRUNNERS: Topeka's leading-scorer Jordan George tallied two goals and an assist in the RoadRunners two-game sweep of Springfield.
TRAVERSE CITY NORTH STARS: Netminder C.J. Motte stopped 32 shots in TC's 3-2 win over Marquette on Saturday. "As we suspected, he's proven that he can play - and win - in this league," said North Stars coach Anthony Palumbo.
TEAM USA: The U.S. teams were idle from NAHL competition, with the Under-18 Team playing a pair of Division I college games in Alaska.
WENATCHEE WILD: The 2-1-1 Wild will play its next game on Oct. 16 when it christens its brand-new home, the Town Toyota Center, against Topeka.
WICHITA FALLS WILDCATS: Idle last week, the Wildcats will takes their perfect 4-0 Showcase Tournament mark into St. Louis this coming weekend for a pair of games.