17 Teams in 17 Days: Flint Jr. Generals
August 26, 2012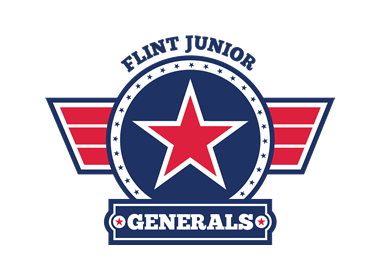 The '17 in 17' series features an in-depth look into all 17 NA3HL teams, with a new team being highlighted daily, leading all the way up until the start of the regular season on Saturday, September 8th. '17 in 17' will go in-depth into each 3HL team and will include interview with all 17 3HL head coaches as they prognosticate and break down their outlook for the upcoming season.
Flint Jr. Generals
Head Coach: Steve Howard
Assistant Coaches: Ben Guzak
2011-12 Record: 35-10-3, 73 pts. – 1st in East Division (Franchise Record)
Playoffs: Won East Division title vs. Cleveland, 2-0
2012-13 Division: East (2011-12 East)
Opening Night: Sunday, September 23rd vs. Michigan – 2:30 pm at Iceland Arena
(First game - September 8th at Cleveland)

There is a list of accomplishments to be noted about the Flint Jr. Generals 2011-12 season. Of the accomplishments are player advancements, a coaching advancement, East Showcase Champions, franchise records, and the bragging rights of being 1st overall in the league for the regular season.
Over the summer, 2011-12 Head Coach Jeff Worlton made the next step in his coaching career and took the position of Assistant Coach for the Corpus Christi IceRays in the NAHL. In his place is Steve Howard, a native of the area who grew up playing hockey in Flint. In the past few years, Howard has spent time coaching in the SPHL and devoted time training players in the Minnesota's Advancement Program in Minneapolis. "I'm looking forward to the opportunity that the Cronk's have given me. Kelly has done a great job in keeping this team around for a long time. Coach Worlton had the best record in the league last year and I hope to have the same this season," Howard said. "I came back to help out kids in Michigan, at every level. I want to keep the legacy of the Jr. Generals going while giving back and helping kids move on to college."
In the past few weeks, Howard and returning assistant coach, Ben Guzak have been getting the team prepared in hopes for another successful season. Almost half of last seasons roster will be returning, as well as a trio from the Chicago Hitmen. Three of the returning eight from last years Jr. Generals roster are forward Edward Osowski, defenseman Nicholas Goettel and Goaltender Domonic Orlando. All three made an impact in last years success and were ranked in the top ten in each of their positions in the league. Forward Osowski will be accompanied James Odom, Casey Barile, Luke McDiarimid, while Goettel will be backed behind the blue line with Kenny Simmons and Alex Compean. From Chicago, Flint acquired the talent of two forwards Jake Howie, Nick Gnagni and 17 year-old defensemen Phil Garza. The Generals will also be hosting another player from Sweden, defensemen Adrian Larsson.
While almost half remain, the other half of last years roster have moved on to pursue the next step in their hockey careers. Every year, it is a goal for the Jr. Generals to move players onto college, and they have done just that. Four of last years players will be moving on to NCAA Division III programs (Lay, Carter, Damon, Kocher) and another three are moving along to ACHA Division I teams (Sheena, Taylor, Terzo). Ben Myers, Josh Kestner and Ken Miloser will be following in Worlton's path as they were tendered by NAHL teams this past spring.
If the Jr. Generals can make one of their accomplishments from last year a repeat, it would have to be their chemistry on home ice. Flint was the strongest team at home, with a record of 20-3-1, and a 16 game winning streak between November 23, 2011 and February 29, 2012. During this winning streak, Flint went undefeated at the NA3HL East Showcase setting the tone for playoffs and their fight for the Championship title. After sweeping Pittsburgh in the Semi Finals and Cleveland in the Division Finals, the Generals found themselves battling against the top seed in each division at the NA3HL Silver Cup Championship, but lost to St. Louis and Granite City who battled for the hardware in the end.
Howard and his team faced off against the Soo Eagles (NAHL) last night in weekend scrimmage series to get players of both leagues ready for the upcoming season. In a close match, the Soo won by one goal, 2-1. The teams face off again today. "I wanted to get the players on the ice and their heads in the game. I still have some evaluating to do." Howard said. Flints first home game of the season will be against new eastern divisional opponents, the Michigan Mountain Cats on Sunday, September 23rd at Iceland Arena.