17 Teams in 17 Days: Metro Jets
August 28, 2012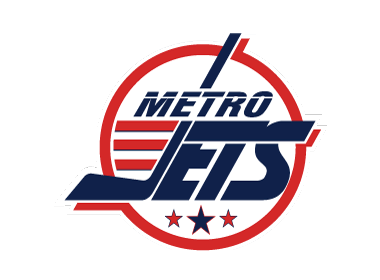 The '17 in 17' series features an in-depth look into all 17 NA3HL teams, with a new team being highlighted daily, leading all the way up until the start of the regular season on Saturday, September 8th. '17 in 17' will go in-depth into each 3HL team and will include interview with all 17 3HL head coaches as they prognosticate and break down their outlook for the upcoming season.
Metro Jets
Head Coach: Jason Cirone
2011-12 Record: 29-17-2, 60 pts. - 3rd in East Division
Playoffs: Lost in the Division Semi- Finals to Cleveland, 2-1
2012-13 Division: East (2011-12 East)
Opening Night: Saturday, September 15th vs. Battle Creek – 7:50 pm at Lakeland Ice
If you were a team matched up against Metro last year, you wouldn't want to have met them on their home ice. The Jets had an impressive 19-5-0 record at home, the second most home wins in the 3HL next to their Divisional rival, the Flint Jr. Generals. The chemistry of the team was unstoppable mid-season, with 10 straight wins at home between December 10, 2011 and February 26, 2012.
A pair of forwards and some of the top scorers in the NA3HL, Steve Klisz and Mike MacKinnon, were a large part of Metro's success and will be a loss to the team this upcoming season. Along with these two, a handful of other players have moved on to the NAHL next season, pursuing the next step in their junior hockey careers and defenders, John Baker and Will Shier will move on to ACHA programs this fall.
Remaining on Head Coach Jason Cirone's roster are four returning forwards Doug Andrews, Travis Hargett, Matt Stirling, Cameron Bruff and defensemen Chad Frost. The Jets have also brought in Derek Britton from the Toledo Cherokee to anchor the team behind the blue line. Cirone is expecting big things from the experienced vet.
Over the summer, Cirone scouted locally to construct a new roster. "Our organization did a decent job going to camps and looking for kids, but also reaching out to the high school level," Cirone said. "I'm looking forward to see how the high school kids will react to the junior hockey." Coach Cirone also noted that the Jets will be making efforts to scout the North American Prospect Hockey League (NAPHL) next year to bring in players with AAA experience. "The Jets went younger this year. I'm looking forward to having a development team, and seeing where we will go."
Cirone believes that part of their success at home has to do with the team being comprised of local players. "It's important to our team that friends and family get to come to all the games and the players really appreciate it," he expressed. "It's a given that everyone is more comfortable at home…being in your own arena, sleeping in your own bed and not having to travel. I think our strength at home has something to do with those elements with the players coming from this area." Cirone and the young team will focus again this year on being strong at home. With Michigan and Toledo joining the East Division this year, Cirone knows that it will breed new competition and rivalry. "If you can't win on the road, you can't win at home. It all starts there."