17 Teams in 17 Days: North Iowa Bulls
August 31, 2012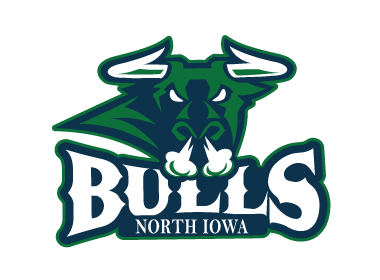 The '17 in 17' series features an in-depth look into all 17 NA3HL teams, with a new team being highlighted daily, leading all the way up until the start of the regular season on Saturday, September 8th. '17 in 17' will go in-depth into each 3HL team and will include interview with all 17 3HL head coaches as they prognosticate and break down their outlook for the upcoming season.
North Iowa Bulls
Head Coach: Todd Sanden
Assistant Coach: Mark Hicks
2011-12 Record: 29-15-4, 62 pts. – 2nd in West Division
Playoffs: Lost to Granite City in Division Finals, 2-1
2012-13 Division: West (2011-12 West)
Opening Night: Saturday, October 6th vs. Alexandria – 7:30 pm at North Iowa Ice
(First game - September 14th at Granite City)
After an optimistic summer of recruiting and the return of some good talent, the North Iowa Bulls will be taking the ice earlier than any other NA3HL team this year. In fact, they take the ice tonight (August 31). North Iowa took the initiative to partner with the NAHL and scheduled pre-season exhibition games to get right into the junior hockey mindset. The Bulls will take on the Topeka RoadRunners tonight and tomorrow in Topeka. Head Coach Todd Sanden is looking forward to these opportunities to give his players a look at what it is like to compete in a NAHL arena.
"A kid can start his career in the NA3HL and work his way up through the NAHL program then to a NCAA Division I scholarship. Our leagues partnerships can make it happen, and it's exciting," Sanden said. North Iowa will also play the Austin Bruins in Austin, MN the weekend of September 7th and 8th, and then will host their NAHL partner club, the Amarillo Bulls (NAHL South Division Champions) on September 10th. The game between Amarillo and North Iowa will be played in Albert Lea, MN, a former NAHL market.
Sanden, the NA3HL 2011-12 Coach of the Year, is optimistic about his diverse talent that will be stepping onto the ice this season. Currently the roster boasts 25 players from nine states and Canada. Of the 25, nine of the players are returning from last year. The other 16 were scouted throughout the summer to build a strong, but young roster, in which all are 1993 and 1994 birth years. Sanden gives lots of credit to North Iowa's Director of Scouting, Jay MacRae. MacRae logged many miles this summer to build the gifted Bulls roster. "I'm a believer that some players get stuck in [geographic] pockets. Being out of Mason City, Iowa we have to go out and look a bit harder," Sanden said.
Of the returning class, Sanden expects some early college commitments to come out of the 2012-13 season. Goaltender Matthew Bartels (ranked 10th last season) will be back in net, mentoring two new goalies simultaneously. Forwards Patrick Sivets and Matt Kroska will also make an impact for the team offensively. Last season Sivets lead the league in short-handed goals with seven. The Bulls will also be stacked on the blue line with returning defensemen Connor Langfield, Andrew Halama and Kyle Gonzalez. Gonzalez, may not be a familiar name to the previous Bulls roster, but was acquired from the Chicago Hitmen last season. He is described to be an offensive, defenseman player that is responsible for his actions while accumulating points.
If this year is anything like last, being a part of the high-energy arena in Mason City, deemed the "Bull-Pen", will be something not to miss. North Iowa lead the league in attendance last year and plans to do the same again. With the addition of two expansion teams to the West Division, Alexandria and Breezy Point, North Iowa expects more rivalries to fill the atmosphere. "There are teams in the West Division that were previously NAHL markets, one being the Bulls. Organizations like Granite City and now Alexandria will carry on the experience of what it is like to play in our partner league. I credit the leadership between both leagues for setting the same goals for our players and organizations," Sanden said.
North Iowa will begin their regular season on the road by facing off with the 2011-12 NA3HL Silver Cup Champions, the Granite City Lumberjacks on September 14th. Last time these two teams met, they were competing in the Division Finals for a spot at the NA3HL Silver Cup Championship. This will be a match you won't want to miss.