17 Teams in 17 Days: Queen City Steam
September 3, 2012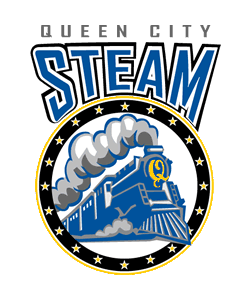 The '17 in 17' series features an in-depth look into all 17 NA3HL teams, with a new team being highlighted daily, leading all the way up until the start of the regular season on Saturday, September 8th. '17 in 17' will go in-depth into each 3HL team and will include interview with all 17 3HL head coaches as they prognosticate and break down their outlook for the upcoming season.
Queen City Steam
Head Coach: Lee Lansdowne
Assistant Coach: Kyle Forte
2011-12 Record: 21-25-2, 44 pts. – 2nd in North Division
Playoffs: Lost in the Division finals to Toledo, 2-1
2012-13 Division: Central (2011-12 North)
Opening Night: Saturday, September 15th vs. Toledo – 7:00 pm at The Sphere
(First game - September 8th at Three Rivers)
For the Queen City Steam, with a new season, comes new opponents. With the shift of the NA3HL going from four divisions to three, the Steam will experience a fresh start from the previous year. Formally in the North division, Queen City will be competing regularly with only one team from 2011-12, the Battle Creek Revolution. Their newest rivalries will be with the Peoria Mustangs, Quad City Jr. Flames and the St. Louis Jr. Blues.
At the end of the 2011-12 season, Queen City started to pick up the pace and set the tone for team chemistry, winning their five last games of the regular season. Newly assigned head coach, Lee Lansdowne (Asst. coach last season), sees great potential in the returning players from last year to continue the chemistry on ice again.
"We look forward to the new challenge of being in the Central [division] this season," Lansdowne said. "There are some very proud and established teams in this division and that just helps us and our players realize we have to show up every night ready to work and compete, because if not, these teams will make you pay." Lansdowne also feels the 2012-13 roster will have the ability to be right in the mix come the end of the season, as they did last year. "The focus and overall goal will be development of our players to get them moved on to the next level."
Queen City will return to the ice with notable talent from last season. Damien Lona will return with the Steam after a taste of the NAHL last season, playing for Wichita Falls. The 19-year-old forward lead Queen City in points before making his way south midway through last season. His time spent in the NAHL will reflect on his play and will help build onto the team this upcoming year. Lansdowne says the likelihood of him being brought back up to the NAHL this season is a good possibility. As Lona is predicted to climb the ladder, same can be said said for third-year forward Luke McCammant. McCammant comes to the Steam after attending Port Huron's (NAHL) camp this summer. Lansdowne says Luke is a pure athlete and his speed will get people talking.
Also returning are forwards Trevor Knoll and Henry Smith. Both of them bring a wealth of experience to the ice that will help build the chemistry of the incoming rookie class. Tim Weisgerber, an 18-year-old defenseman, will be the only returning defenseman for 2012-13. It is noted that his speed and vision are right where they need to be and he will be a powerful guardian at the blue line. Although goaltender Alex Lazarski has moved on from the Steam, they are not lost in net. Queen City will have Adam Eno in goal, who played at the collegiate level for St. Lawrence University last season (NCAA DIII). Also, keep your eyes on the ice for Tyler Belmont, a forward acquired by trade from the Minnesota Flying Aces, and new defensemen Emil Sundstrom, a 19-year-old Swede who played just outside of Stockholm last season. Queen City also tendered two 16U NAPHL forwards from Indiana Jr. Ice in the 2012 NA3HL Draft – Stephen Pack and Ryan Murphy.
2011-12 players that have moved on with great accomplishments are forwards Alex June, to Becker College (NCAA DIII) and Trevor Voelker to the NAHL (Springfield).
Goaltender, Matt Leon has also moved along to the NAHL with Wichita Falls.
Lansdowne will be assisted this season by first year coach, Kyle Forte. Forte, a NAHL and USHL graduate will be able to use his junior hockey knowledge and experience to develop the team into possibly one of the Central divisions best for 2012-13.