3HL names first players of the week for 2012-13 season
September 14, 2012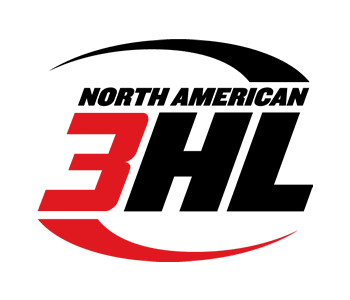 FRISCO, TEXAS – The North American 3 Hockey League (3HL) today announced the Three Stars of the Week presented by Combat Hockey for the week ending September 10, 2012. This week marks the first time during the 2012-13 regular season that the award will be given away to the 3HL's top performing players on a weekly basis.
1st Star: Trevor Knoll, forward, Queen City Steam
Knoll, 19, helped the Queen City Steam to a weekend split in Pittsburgh against the Three Rivers Vengeance. On Saturday, the Littleton, Colorado native had the game-winning goal and an assist in a 3-2 Steam win to open the season. On Sunday, Knoll (5'10/185) again added a goal and an assist in a close 5-4 loss. For the weekend, Knoll recorded two goals and two assists for four points, which included Saturday's game-winning goal.
2nd Star: Alex Berardinelli, forward, Three Rivers Vengeance
Three Rivers forward Alex Berardinelli, 17, picked up where he left off last season by producing offense for his team in their opening weekend of play. Although the Export, Pennsylvania native was held off the scoreboard in Saturday's 3-2 loss to Queen City, he came back with revenge on Sunday as he recorded his first hat-trick of the season in a 5-4 win over the Steam, which included the game-winning goal. He was also +2 on the weekend. Berardinelli (5'9/165) was tied for second in scoring last season for the team with 25 goals and 50 points.
3rd Star: Ed Osowski, forward, Flint Jr. Generals
In a weekend split with the Cleveland Jr. Lumberjacks, Flint veteran forward Ed Osowski, 19, had three points over the weekend, which included two goals and an assist. On Saturday, Osowski had a goal in a 5-3 loss against Cleveland. The next day, the forward from Montclair, New Jersey was even better as he lit the lamp for a goal and an assist in a 4-1 win by the Jr. Generals. Osowski (5'8/145), was a part of the 3HL's Top Prospects back in May and registered 62 points a season ago with Flint.
Honorable Mention (alphabetical order): Brandon Anderson, forward, Peoria Mustangs – Adam Eno, goaltender, Queen City Steam – David Heflin, goaltender, Cleveland Jr. Lumberjacks – Thomas Leistner, defenseman, Three Rivers Vengeance – Jim Odom, forward, Flint Jr. Generals