3HL announces Combat Hockey 3 Stars of the Week
September 19, 2012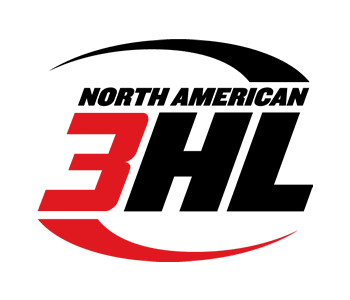 The North American 3 Hockey League (3HL) today announced the Three Stars of the Week presented by Combat Hockey for the week ending September 16, 2012. The three stars of the week is an award given each week of the regular season to the top performing players in the 3HL as nominated by their head coaches.
1st Star: Mike Lozano, forward, St. Louis Jr. Blues
St. Louis Jr. Blues forward Mike Lozano, 19, helped the Jr. Blues to a weekend home sweep of the Twin City Steel as he recorded five points (3 goals, 2 assists) in two games, which included a game-winning goal and a +3 rating. "His points came at important times and set the tone in the games," said St. Louis head coach JP Beilsten. "He brings a veteran presence to the line-up and is playing with a lot of confidence." Lozano's best game of the weekend came on Saturday as he recorded two goals and two assists in a 7-1 win. The next day, the native of Lockport, IL scored a goal in a 4-1 win.
2nd Star: Andrew Sprouse, defenseman, Cleveland Jr. Lumberjacks
Cleveland is out to a 3-1 start thanks in large part to players like defenseman Andrew Sprouse. Sprouse, 19, helped the Lumberjacks to a weekend road sweep of the Three Rivers Vengeance. The Cary, IN native totaled three assists on the weekend and was a +4. "Andrew had a very solid weekend and was an unsung hero behind our success," said Cleveland head coach Bob Jacobson. "He plays in all situations, has been very consistent so far this season and is doing what we need done from a leadership standpoint." Sprouse assisted on the game-winning goal in Cleveland's 7-3 win on Sunday.
3rd Star: Doug Andrews, forward, Metro Jets
Andrews, 20, opened his 2012-13 campaign with an explosive offensive performance as Metro swept the Battle Creek Revoltion. The Macomb, MI native recorded four points in both games. "Doug really grown as a player since last season," said Jets head coach Jason Cirone. "He is playing with more confidence, more patience and it paid off this past weekend because he worked hard to create offense." Andrews had the game winning goal on Saturday and assisted on four of Metro's six goals on Sunday, including the game-winner. He is tied for the 3HL lead in points with eight.
Honorable Mention (alphabetical order): Mikael Broliden, goaltender, St. Louis Jr. Blues – Ryan Chapie, forward, Metro Jets – Scott Cuthrell, forward, Cleveland Jr. Lumberjacks - Ian Ecklund, forward, Alexandria Blizzard – Alec Gerred, forward, Toledo Cherokee – Jason Hoehn, forward, Quad City Jr. Flames – Mitch Humphries, forward, Granite City Lumberjacks – Clayton Janecke, defenseman, Quad City Jr. Flames – Matt Kroska, forward, North Iowa Bulls – Kyle Miller, goaltender, Alexandria Blizzard – Nate Miller, goaltender, Toledo Cherokee –– Michael Straub, defenseman, Three Rivers Vengeance – Nico Vecchio, forward, Three Rivers Vengeance – DJ Vold, forward, Granite City Lumberjacks.