Blizzard continues its surge in Central
October 13, 2008
by By Brian McDonough | NAHL.com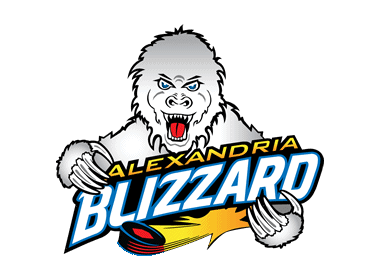 Read the full NAHL Weekly Release.
Frontrunners in the NAHL's Central Division, the Alexandria Blizzard got its first taste of home ice last weekend and didn't disappoint, skating to a two-game sweep over the Springfield Jr. Blues.

"Opening weekend is always important for your team and the home fans," said Blizzard head coach Brad Willner, whose team improved to 6-3-1 on the young season. "But give Springfield credit; that's a very good team and they played very tough for 120 minutes."

On Friday, Jerry Freismuth tallied a goal and the winner in the shootout as the Blizzard bested the Jr. Blues, 4-3. Jon Swavely added two assists in the victory, and goaltender Ryan Leets turned aside 32 shots and all three in the shootout.

The next night, five different players scored in Alexandria's 5-2 triumph, including defenseman Sam Carr, who connected for the game-winning goal. Sean Kenny (goal, assist), Jon MacRae (goal, assist), Swavely (two assists) and Josh Munford (two assists) each registered two-point nights, while Leets made 31 saves.

"We're happy with our start, but we can't for a minute relax," said Willner, who guided the Blizzard to its first Robertson Cup Championship Tournament appearance last season. "This league is too good to take a night off."

Willner credits Leets, an 18-year-old from Kentwood, Mich., for coming up with some big saves in critical moments in the wins against Springfield.

"I thought he played very well," said the coach. "We gave up too many odd-man rushes, but he was there to bail out his teammates."

Now in his third season, Leets is sharing the nets with 19-year-old Dylan Woodring, a St. George, Utah, native who made 14 appearances with the Blizzard last year. Both are expected to see their fare share of minutes in Alexandria's nets.

"Ryan has been playing steady all year," said Willner. "He's been mentally tougher this year and has been in a zone. I just let him be and hopefully it will continue.

"We have two really good goalies and both will see ice time during the year."

Freismuth, a 20-year-old from Grosse Point Woods, Mich., also in his third year with Alexandria, continued his offensive charge last weekend. The NAHL's leading scorer now has four goals to go along with his league-leading 13 assists and NAHL-best plus-10 rating.

"Jerry is one of those special players," said Willner. "Every time he's on the ice something happens. He's a humble person and gives a lot credit to his teammates."

Swavely is also reaping the benefits of his hard work over the past couple of weeks. The 19-year-old from Reading, Pa., came alive against Springfield to the tune of four assists.

"He's being rewarded for it," said Willner. "He's a skilled player who is paying the price in the corners to help us score."

On the defensive side of the puck, Carr, a 19-year-old in his first year with the team, is already showing plenty of promise.

"He's been very steady for us," Willner said of the Roseau, Minn., native. "He keeps things simple and picks his spots to join the rush. He has offensive talents that will start to show as his confidence continues to grow."

Pleased with his club's start, Willner believes improved play in his team's defensive zone will dictate any continued success. He also makes it a point to caution against complacency.

"It's a long season and it's too early to think that you're good," said Willner. "After a weekend sweep, we usually have our toughest week of practice to try to keep them (the players) focused."

And with 14 of its next 18 games at Alexandria's Runestone Community Center, Willner doesn't mince words when addressing the need for his team to capitalize on the extended home stretch.

"Very important," he said, noting that the Blizzard only plays three home games in January and four in February. "It's extremely hard to win on the road; everyone seems to play better at home and everyone needs to win those games."
AROUND THE NAHL
ALASKA AVALANCHE: After splitting a pair of games at Kenai River, the Avalanche opens its home schedule this weekend with a two-game set against the Brown Bears.

ALBERT LEA THUNDER: Albert Lea's leading-scorer Danny Wood potted two goals and an assist in a pair of losses last weekend.

ALEXANDRIA BLIZZARD: Few complaints to be had, but head coach Brad Willner would like to see improved play in his team's defensive zone. "We need to be more accountable and start helping [our goaltenders] out," he said.

ALPENA ICEDIGGERS: Erik Peterson rang up three third-period assists and a shootout goal in the IceDiggers' 5-4 win over Marquette on Saturday.

BISMARCK BOBCATS: David Bosner backstopped the Bobcats to two more wins last weekend, including a 21-save shutout of Owatonna on Saturday. "Right now, he's in the zone," said Bobcats head coach Byron Pool. "Nothing seems to faze him."

FAIRBANKS ICE DOGS: Eric Kraft recorded two assists and goaltender Phil Cook made 23 saves as the Ice Dogs handed Topeka its first loss of the season on Saturday, 4-2.

KENAI RIVER BROWN BEARS: Goaltender Jimmy Hamby, from Ann Arbor, Mich., stopped all 28 Avalanche shots as the Brown Bears routed Alaska on Saturday, 8-0.

MAHONING VALLEY PHANTOMS: With the weekend off, the Phantoms will travel to Alpena for a pair of games this coming weekend before playing their first games in the Chevy Center on Oct. 24-25.

MARQUETTE RANGERS: Goaltender Kevin Kissaw turned aside all 37 shots as the Rangers blanked Alpena on Friday, 3-0. "Kevin was the difference," said Marquette head coach Kenny Miller. "When we needed a save, he came up with it."

MOTOR CITY MACHINE: Winless in its last six games, the Machine will head to Traverse City this weekend for a pair of games against the North Division-leading North Stars.

NORTH IOWA OUTLAWS: Brandon Brodhag, who played for Southern Minnesota last season, is on a six-game point-scoring streak. "We brought Brandon in to produce goals and he's been doing just that, whether he's been the one scoring or setting up his teammates," said North Iowa head coach Jeff Crouse.

OWATONNA EXPRESS: Goaltender Adam Buegler, from New Ulm, Minn., stopped 38 of 40 shots - and all four in the shootout - as the Express knocked off North Iowa on Friday, 3-2.

SPRINGFIELD JR. BLUES: River Falls, Wis., native Trent Frey posted two goals and an assist as the Jr. Blues dropped a pair of games in Alexandria.

ST. LOUIS BANDITS: Air Force recruit Clinton Bourbonais racked up five assists as the Bandits swept a two-game set over Motor City.

TOPEKA ROADRUNNERS: After opening the season 7-0, the RoadRunners suffered their first defeat of 2008-09 at the hands of Faribanks on Saturday, 4-2.

TRAVERSE CITY NORTH STARS: The North Stars extended their winning streak to five games with a two-game sweep of the U.S. Under-17 Team. "The thing that seems to be coming to the surface is our depth, I think," assessed Traverse City head coach Anthony Palumbo.

TEAM USA: Jason Zucker (goal, assist) was the Under-17 Team's only multiple scorer in its two losses at Traverse City last weekend.

WENATCHEE WILD: The Wild, which hasn't played a game since the NAHL Showcase Tournament, plays its first home game at the brand-new Town Toyota Center on Thursday against Topeka.

WICHITA FALLS WILDCATS: The idle Wildcats will open their home schedule Oct. 24-25 against Springfield.