Avs to celebrate state's anniversary
October 14, 2008
by By Jeremiah Bartz | Frontiersman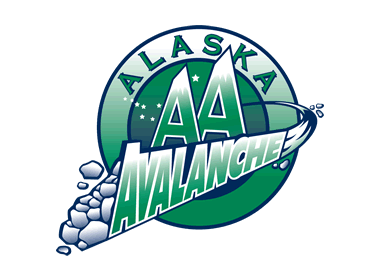 The Alaska Avalanche will look a bit different when they take the ice of the Curtis C. Menard II Memorial Arena for the first time on Friday.

In their 2008-09 home-opener, in which the Wasilla-based squad will face intrastate foe Kenai River, the Avs will be sporting limited-edition jerseys that celebrate 50 years of Alaska statehood.

Alaska president and general manager Jamie Smith credited Avs assistant coach Jake Williams with the idea of donning the special sweaters for the home-opener.

The Avs, who have also worn and auctioned pink jerseys to promote breast cancer awareness and a camouflage uniforms to honor the military, will wear the statehood jerseys on Friday and Saturday night against the Brown Bears. After that the Avs hope each jersey becomes a part of a fan's wardrobe or memorabilia collection.

Each will be auctioned off as a fundraiser for the local hockey franchise. Smith said the Avs will conduct the auction between periods on both nights, with a set number of jerseys being auctioned off during a particular time.

Jerseys representing each of the 25 players on the Alaska roster will be available for bid, Smith said, as will three additional jerseys. A jersey representing Alaska Governor and Republican vice-presidential candidate Sarah Palin will also be available during the auction.

Those interested in bidding on a jersey can also contact Smith directly at jamie.akavalanche@hotmail.com. To bid via e-mail, Smith asks to specify which jersey the bidder is interested in and the maximum value for the bid.

Smith said the Avs will also wear the pink jerseys for breast cancer awareness and camouflage jerseys to honor the military later this season.

Alaska, on the heels of a two-game split with the Brown Bears in Soldotna last weekend, is 4-2-0 overall and locked in a first-place tie with Kenai River (4-4-0) in the NAHL West Division with eight points.

The first puck is set to drop at 7 p.m. local time each night this weekend.