Breezy Point sells out home opener
September 24, 2012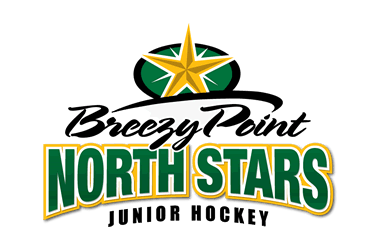 By: Pete Mohs
North Iowa skated past the Breezy Point North Stars 8-2 last week in the first North American Tier III Junior hockey game at Breezy Point Arena.
The final score was about the only negative setback from an opener that included a sellout crowd of more than 500 people.
"We are extremely happy with all the positive support from the community," said North Stars general manager Joe Bergquist. "The entire night was filled with energy and excitement. It started with a large tailgate party before the game and continued with the sound and light shows during the game. We also had free open skating and entertainment after the game."
North Iowa jumped to a 3-0 after the first period on goals by Matt Kroska, Noah Anderson and Timothy Santopoalo. The Bulls later led 5-0 in the second period on goals by Eric Behrend and Santopoalo.
Breezy Point netted its first goal in history when Kyle Whipple scored on the power play, assisted by Evan Anderson and Austin Cline at 13:56 of the period.
North Iowa added a pair of goals late in the period by Patrick Sivets and Kyle Krueger for a 7-1 lead heading into the final session.
Siverts scored his second goal, but the North Stars' Brandon Adler tallied at 15:01, assisted by Jared Naeve.
Losing goalie Grant Holler had 17 saves while teammate Ian Shidlofsky, who entered the game late in the second period, stopped 18 shots. Winning goalie Matt Bartels had 22 saves.
Read more here.