3HL announces Combat Hockey 3 Stars of the Week
September 25, 2012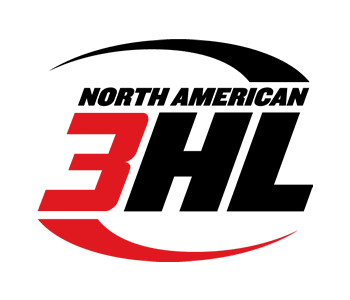 The North American 3 Hockey League (3HL) today announced the Three Stars of the Week presented by Combat Hockey for the week ending September 23, 2012. The three stars of the week is an award given each week of the regular season to the top performing players in the 3HL as nominated by their head coaches.
1st Star: Damien Lona, forward, Queen City Steam
Queen City forward Damien Lona, 19, has started the season on a tear for the Steam, who sit in 2nd place in the Central Division with a very respectable 4-2-0 record. This past weekend Queen City posted a split with the Peoria Mustangs, and Lona continued his hot play. The native of Crittenden, Kentucky, had three goals and two assists in a five point weekend, was a +4 and now is the current 3HL scoring leader with 10 points. Lona (5'11/185) is also riding a five-game point streak. "Damien is really showing some leadership. He is setting the tone early and is teammates are following. He leads by example and is a big reason why we selected him as captain," said Steam head coach Lee Lansdowne.
2nd Star: Jake Howie, forward, Flint Jr. Generals
Now is his second season in the 3HL, Flint forward Jake Howie, 17, had a six-point weekend as Flint split a weekend home-and-home series with the Michigan Mountain Cats. After recording an assist in a 4-3 overtime loss on Saturday, Howie (5'8/150) exploded for two goals and three assists in a 7-2 win on Sunday. The native of Grand Blanc, Michigan, played last season with the 3HL's Chicago Hitmen and has eight points in four games played so far this season as Flint is off to a 2-1-1 start. "Jake is a fast and smart hockey player. He does a good job of creating turnovers to give himself more opportunities offensively and will play a big role in our success this season," said Flint head coach Steve Howard.
3rd Star: Taylor Brown, forward, North Iowa Bulls
In his first 3HL action of the year, North Iowa forward Taylor Brown, 18, was the spark the Bulls needed to keep pace in the West Division as they took two of a possible four points on the road. Brown (5'9/170), had five points (2 goals, 3 assists) over the weekend. On Friday, he assisted on the lone Bulls goal, which was shorthanded in a 4-1 loss against Granite City. On Saturday, the native of Fitchburg, Wisconsin, had two goals (including the game-winner in a shootout) and two assists in a 6-5 win at Breezy Point. "Taylor was a tender of ours, but started the season with Coulee Region in the NAHL. He provided an instant offensive spark and has the ability to be a consistent player at the next level. He is blessed with good hands and great speed," said Bulls head coach Todd Sanden.
Honorable Mention (alphabetical order): Mikael Broliden, goaltender, St. Louis Jr. Blues – Peter Coppola, forward, Quad City Jr. Flames – Lukas Daniels, forward, St. Louis Jr. Blues – Brody Duncan, defenseman, Toledo Cherokee – Jordan Fogarty, forward, Toledo Cherokee – David Heflin, goaltender, Cleveland Jr. Lumberjacks – Cory Kettler, forward, Peoria Mustangs – Andy Lay, forward, Flint Jr. Generals – Harley Manus, forward, Quad City Jr. Flames – Austin Sartorius, forward, Michigan Mountain Cats – Guy Soulliere, forward, Michigan Mountain Cats – Emil Sundstrom, defenseman, Queen City Steam – Dallas Szustak, forward, Cleveland Jr. Lumberjacks – Alex Turin, forward, Peoria Mustangs – Aidan Verbeke, forward, Granite City Lumberjacks – Austin Wilson, goaltender, Granite City Lumberjacks.