Battle Creek Revolution in search of success
September 29, 2012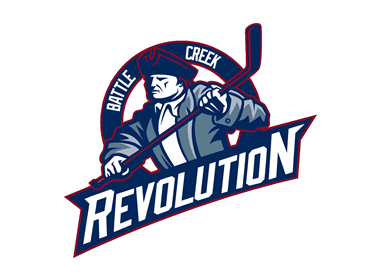 By Will Kowalski, Battle Creek Enquierer
The Battle Creek Junior Revolution hockey team is hoping to end a frustrating trend during this weekend's pair of 2012-13 home season-opening North American 3 Hockey League games at Revolution Arena.
The Junior Revs, in their third season as a member of the Midwest-based NA3HL - a 17-team Junior A/Tier III league for players ages 16-20 -have yet to win an NA3HL contest in a little over 100 tries since the team debuted in 2010-11.
True, the squad did top the University of Michigan-Dearborn collegiate team, 2-1, in an exhibition matchup recently.But regular season-wise, they're still O-fer in the franchise's history.
Yet nobody associated with the Jr. Revs was hanging their head at a spirited practice this week. The team has a new coach and general manager, Rod Davidson - a longtime junior-level coach in Canada - and players are coach say they are ready to put some "W's'' in the victory column.
"We want to win really bad. We're really hungry, and this weekend I think we can do it,'' said second-year Junior Rev Josh Kimber, 19, a defenseman and one of the squad's alternate captains and 2011 graduate of St. Philip High.
"We're tired of losing - even though we did win that exhibition game -and I think our time has come. We're all in this to hopefully move up to another level, college or higher NAHL or whatever, and it would be great someday if a scout would come up and talk to me after a game. But right now, we're all just working hard and concentrating on getting a win this weekend ... against a team that we're (statistically) better than. We'll just have to see.''
Battle Creek and its opponent for games Saturday night and Sunday afternoon -the Quad City Junior Flames out of Davenport, Iowa - are both off to 0-4 starts in the Central Division. The Junior Revs have allowed 29 goals in four games and scored 10, while Quad City has scored only 10 goals and surrendered 17.
Read the complete story here.