3HL announces Combat Hockey 3 Stars of the Week
October 2, 2012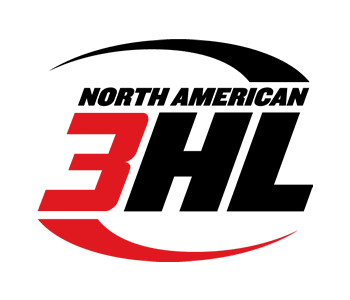 The North American 3 Hockey League (3HL) today announced the Three Stars of the Week presented by Combat Hockey for the week ending September 30, 2012. The three stars of the week is an award given each week of the regular season to the top performing players in the 3HL as nominated by their head coaches.
1st Star: Tyler Stockwell, forward, Three Rivers Vengeance
Three Rivers forward Tyler Stockwell, 17, had a weekend to remember as the Vengeance posted a weekend road sweep against the Metro Jets. The native of Peninsula, OH, recorded two goals and two assists for four points in the two wins. However, most importantly, both of Stockwell's goals were the respective game-winners in each game. On Saturday, Stockwell (5'11/170) scored the game-winner early in the 3rd period in a 4-3 win and on Sunday he did the same in a 5-4 win. "Tyler has put in a lot of hard work thus far and has a huge upside to his game. He is still learning the systems and junior hockey, but we have been very pleased with his progress and production thus far and this past weekend was a big testament to that," said Vengeance head coach Brian Cersosimo.
2nd Star: Tyler Opilka, defenseman, St. Louis Jr. Blues
Having turned just 17-years-old this past summer, St. Louis defenseman Tyler Opilka is playing as good as any defenseman in the league. This past weekend was no exception as he helped his 1st place and undefeated Jr. Blues to a weekend road sweep of Queen City. On Saturday, the native of St. Louis, MO, had a goal and assist in a 7-1 win. On Sunday, Opilka added a goal in a 3-1 win over the Steam. He was a +4 over the weekend, which increased his league-leading +/- total to an amazing +18 in just eight games played. His 10 points so far this season leads all 3HL defensemen. "Tyler has come a long way in two years for a younger player. He has focused more this season on making better decisions with the puck and his game has really improved because of it," said St. Louis head coach JP Beilsten.

3rd Star: Andy Lay, forward, Flint Jr. Generals
Flint forward Andy Lay, 20, is tied for the 3HL scoring lead and a big reason why was his performance this past weekend, as the Flint Jr. Generals split a weekend home series with Toledo. On Saturday, the native Swartz Creek, MI, tallied two goals and an assist in a 5-2 win over the Cherokee. On Sunday, Lay (6'1/175) had three more points scoring a goal and adding two assists in a close 5-4 loss. Lay's 12 points in tied for the 3HL lead. "It was a blessing getting Andy back on the team this year. He has tremendous hockey sense and is a great team leader. He hasn't missed a beat from last season and is on pace to have his best year yet," said Flint head coach Steve Howard.
Honorable Mention (alphabetical order): Andrew Benyo, forward, Toledo Cherokee – Trey Dodd, forward, St. Louis Jr. Blues – Clayton Janecke, defenseman, Quad City Jr. Flames – Connor Langfield, defenseman, North Iowa Bulls – Jake Lyon, goaltender, Quad City Jr. Flames – Lucas McCamment, forward, Queen City Steam – Brendan Murphy, defenseman, Peoria Mustangs – Chase Myers-Beck, forward, Minnesota Flying Aces – Donnie Nagle, defenseman, Toledo Cherokee - John O'Brien, goaltender, Three Rivers Vengeance – Drew Otto, forward, Granite City Lumberjacks – Tim Santopoalo, forward, North Iowa Bulls – Michael Stumpf, goaltender, Minnesota Flying Aces – Alexander Turin, forward, Peoria Mustangs – Aidan Verbeke, forward, Granite City Lumberjacks – Tim Weisgerber, defenseman, Queen City Steam.