Late-summer acquisitions paying off for Jets
October 25, 2012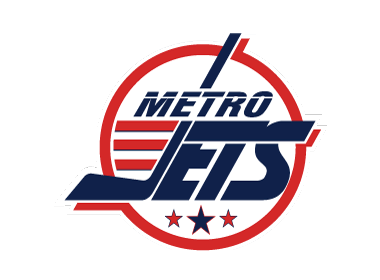 By Matt Mackinder

On the eve of training camp, the Metro Jets acquired forward Jeff Monfils from Cleveland and defenseman Derek Britton from Toledo in two trades that didn't seem like much at the time, but have since seen the two Michigan natives come home and make an impact in the early going.

Monfils is averaging a point per game and Britton has provided some much-needed size on the blue line for the Jets, who enter Friday night's game against Flint on a two-game winning streak.

Metro captain Matt Stirling said all he knew about the pair prior to this season was what he saw from playing against them the past couple years, but now, he's happy to have them on his side.

"They both have fit in well," Stirling said. "The two are both older guys who know what it takes to play in this league. Britton brings a size factor that we need along with the ability to play in multiple situations on defense. Monfils brings his leadership over from Cleveland last year and fits well with the guys up front as he puts up solid numbers for us every weekend. They both assist me in helping lead the team this year as well."

For Britton, he welcomed the trade back to his home state, but admitted it wasn't something he was actively seeking. The Jets sent fellow defenseman Zach Schlacht the other way in the deal.

"The trade occurred because there were many obligations I had close to home," explained Britton. "I was enrolled in college courses, working full time and had an old car that couldn't make the commute to Toledo. Although (Toledo) coach (Scott) Syring had wanted me on his team, he was willing to make the trade and encouraged me to keep playing hockey. I did not set out to be traded, but I knew it needed to be done if I wanted to keep playing. I feel lucky to have had two great coaches last year and this year who push to get the most out of me and it was nice that they put my best interests ahead of everything."

Monfils was actually contemplating hanging up the skates before the trade.

"To be honest, I wasn't planning on playing juniors again, but things didn't work out, so I decided real late to play again and Metro was a better fit for me, so I knew the trade was coming," said Monfils. "I feel I fit in really well with the other guys. The minute I came in the locker room, I felt like I was there all year. We're all pretty close.

"I also stayed in the league again because I have one year left of juniors and I feel like it would get me more exposure to colleges so I can move up and hopefully play college hockey some place next season."
Coming into a new organization with new coaches and new systems has been an easy transition for both Britton and Monfils.

"This Jets team has a mix of experienced and talented young players," Britton said. "It has been very easy to adjust because I have played with and against some of my teammates. I was also familiar with (Metro) coach (Jason) Cirone and his expectations from past tryouts and speaking with friends who have played for him. I feel I fit in well with this team by supporting our defensive line and providing leadership for the younger players. I try to teach them what I have learned from my past and teach them to work hard every shift."

During the Jets' recent six-game losing skid. Monfils exerted his leadership.

"Everyone each day would work harder and harder at practice during our losing streak," explained Monfils. "Everyone wanted to push each other harder so we could turn that around. The veterans of the team are looked up upon by the younger guys, so we all have to set good examples and keep reminding them that it's just a game."

Two weeks ago, Monfils was named the NA3HL 2nd Star of the Week for his four-point weekend against Quad City.

"When we traded for Jeff in the offseason from Cleveland, we knew we needed a team leader and he showed why (against Quad City)," said Cirone. "He is playing on a line with two of the younger players (Alex Holm and 2012 first-round pick Mike Gambino) and has really helped them along."

Britton, like Monfils, has high expectations for the Jets the rest of the season. And if individual success comes along the way, it's the cliché icing on the cake.
"My personal target is to keep working hard to improve my skills to make it to college or the next level," said Britton. "I will do this by defending our side of the ice in any situation. My main focus is to stop scoring chances against us by getting the puck to our forwards as fast as possible. I need to make sure I am in the right position at all times for positive results.
"From a team standpoint, we need to keep working hard in practice so the wins keep coming to make it to the finals. I know this is tough, but we can do it if we work hard and do our jobs on the ice. This can and will happen if we work together as a team."

"Personally, my goal for this year is to do whatever I can to help my team win," added Monfils. "From the team side of things, the goal is obviously to win the league."