NA3HL announces Combat Hockey 3 Stars of the Week
November 20, 2012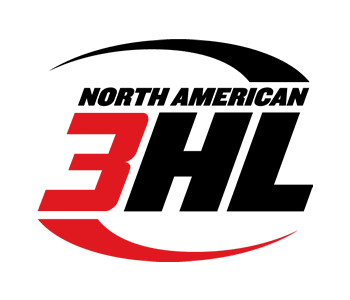 The North American 3 Hockey League (NA3HL) today announced the Three Stars of the Week presented by Combat Hockey for the week ending November 18, 2012. The three stars of the week is an award given each week of the regular season to the top performing players in the NA3HL as nominated by their head coaches.
1st Star: Garrett Skinner, forward, Alexandria Blizzard
It was a big weekend for the Blizzard and forward Garrett Skinner, 19. The hometown native of Alexandria, Minnesota, has a record-breaking week as he recorded eight points (2 goals, 6 assists) and was a +8 in three games as the Blizzard picked up three important West Division wins over the weekend. Skinner (5'11/175) started his week off with an assist in Friday's 6-2 win over Minnesota. On Saturday, he recorded a goal and four assists in a 9-0 win over Breezy Point. On Sunday, he completed the weekend with a goal and an assist in a 5-2 win at Breezy Point. Skinner is tied for the Blizzard scoring lead so far this season with 19 points to date. "Garrett is a local kid that is very popular with the community," said Blizzard head coach Jeff Crouse. "He is still a young player and learning, but he is figuring out how to play at both ends of the rink. He is a very good playmaker and sees the ice well."
2nd Star: Nathan Miller, goaltender, Toledo Cherokee
Toledo Cherokee netminder Nathan Miller, 17, was in goal for both games as the Cherokee posted a weekend home sweep of their in-state rivals from Queen City. For the weekend, the native of Erie, Pennsylvania picked up two wins and stopped 40 of a combined 42 shots in the two games, good for a goals against average of just 1.00 and a save percentage of 95.2%. On Saturday, Miller (6'5/220) stopped 22 of 23 shots in a 6-1 win. On Sunday, he stopped 18 of 19 shots in a 2-1 win, completing the weekend sweep. Miller has a 5-2-1 record so far this year and ranks in the Top 11 in the NA3HL in both goals against average and save percentage. "Nate gave us a chance to win both nights and when he is on his game he is very hard to beat," said Toledo head coach Kenny Miller. "He had a solid week of practice that led to his two wins this past weekend."
3rd Star: Tony Paulson, forward, North Iowa Bulls
Since joining the North Iowa Bulls, forward Tony Paulson, 18, has recorded eight points in five games. This past weekend was a good indication of Paulson's offensive abilities as he recorded six points in two games as the Bulls captured three of four points. The native of Maple Grove, Minnesota, started the weekend with a hat-trick (which included the game-winning goal) and an assist in an 8-4 win at home over Twin City. The next night, Paulson (5'9/165) had two assists in a 4-3 shootout loss to the Granite City Lumberjacks. He was also a +6 in the two games. "Tony has made an immediate offensive impact and is very special player," said Bulls head coach Todd Sanden. "He has great speed and tremendous hands. He is very unselfish and knows how to move the puck around the rink."
Honorable Mention (alphabetical order): Noah Anderson, defenseman, Twin City Steel – Hyo Jun Baek, forward, Queen City Steam – Eric Behrend, forward, North Iowa Bulls – Austin Coulson, goaltender, Queen City Steam – Spencer Craig, goaltender, Michigan Mountain Cats – Easton Halbert, forward, Quad City Jr. Flames – Marshall Helton, forward, Michigan Mountain Cats – Jake Howie, forward, Flint Jr. Generals – Brycon Johnston, forward, St. Louis Jr. Blues – Harley Manus, forward, Quad City Jr. Flames – Luke McDiarmid, forward, Flint Jr. Generals – Kerry McGlynn, defenseman, St. Louis Jr. Blues – Calvin Miska, forward, Twin City Steel – Andrew Mitch, forward, Cleveland Jr. Lumberjacks – Dylan Nelson, defenseman, Minnesota Flying Aces – Michael Parda, goaltender, Peoria Mustangs – Brett Podgorski, forward, Toledo Cherokee – Mattheu Raiola, defenseman, Granite City Lumberjacks – Alex Reichle, goaltender, Peoria Mustangs – Michael Straub, defenseman, Three Rivers Vengeance – Payton Trammel, forward, Minnesota Flying Aces – Nico Vecchio, forward, Three Rivers Vengeance – DJ Vold, forward, Granite City Lumberjacks.