Strong penalty killing Odom's biggest asset to Flint
December 11, 2012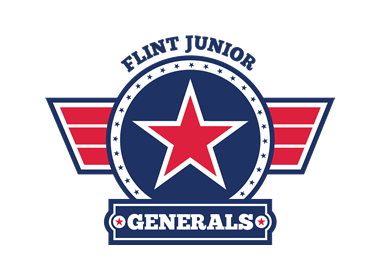 By Matt Mackinder
Most anyone can score goals and most anyone can break up a rush up ice.
Goalies have their jobs and fourth-liners have their jobs.
But for the Flint Jr. Generals, third-year veteran James Odom prides himself on getting on the ice when his team is down a man, or sometimes two.
"I feel like my role right now as a 20-year-old on the team is to play solid defensively and help the new guys get used to this league," Odom said. "My forte has always been penalty killing."
Joining the Jr. Generals back in 2010, Odom came with several teammates of his from the Tri City Icehawks, where former Flint coach Jeff Worlton had coached prior to being named the Jr. Generals' bench boss.
Worlton was named an assistant coach with the NAHL's Corpus Christi IceRays over the summer.
"Before I came to the Generals, I really didn't know anything about the team," admitted Odom. "All I knew was that they were in the CSHL at the time, but in my three years here, I have learned so much more about the team and the league.
"I think Flint has a great program. The coaching staff is always working very hard at recruiting. I feel like the program is based on hard work and with hard work, we have done well. When other players see that we do, well, they want to come here and play, too."
A native of Saginaw, Odom said his hometown is "a lot like Flint, just bigger."
"I feel that Flint has been more of a hockey city, but Saginaw is definitely catching up," Odom said.
Done with junior hockey after the 2012-13 season, Odom has aspirations to keep playing not only next year, but for many years to come.
"I really want to play college hockey and maybe one day play professionally somewhere," said Odom. "I see myself playing college hockey and studying medicine in the next five years."
And remember – college and pro hockey always needs penalty-killers, too.