Beuthin making contributions in rookie season with Flint
January 9, 2013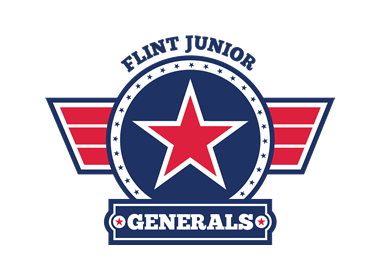 By Matt Mackinder

Hockey players will always say that the best way to get noticed is to play your own game and not stray from what got you to that point in the first place.

Adam Beuthin is a hockey player and doing just that won him over with Flint Jr. Generals' scout Doug Bailey last year while he was in his senior year with the Bay Area Thunder team, a high school team comprised of four area schools.

"(Bailey) had scouted me when I played in high school and really liked my style of play and thought I would fit in with the way the game is played as a Jr. General," explained Beuthin. "One day last spring, Doug asked me to come down to Flint to skate and shoot on one of the goalies of last year's team. He was impressed and we talked for a while and came to the conclusion that I would fit in and so he decided to tender me."

And once he arrived in Flint from his home just 40 minutes away in Bay City, the 18-year-old Beuthin knew he made the right choice to play in the NA3HL.
"One of the big things that was based on my decision is the style of play that is stressed in Flint and that is the blue-collar brand of hockey – getting the puck deep and playing the body in the corners with the ability of putting the puck in the net and having success doing it," said Beuthin. "I would have to say the biggest reason why I chose to play in Flint is the reputation that I heard about the owners Gale and Kelly Cronk. After hearing all the good things and about them and how much impact the two of them have had on the game of hockey in the area of Flint and all the history and knowledge the two of them possess about the game, I would have been crazy to pass up the opportunity of playing for them.

"After being on the team for a while, I now know that both Gale and Kelly would do anything for you and I would do anything for them.

"I knew about the Jr. Generals before this season, but not about the NA3. After playing in the league for a few months now, I can say that the level of play is nothing to laugh at. It's a fast-paced, in-your-face game and every team shows up to play every night and you have to be ready. You have to be a player who wants to succeed in your hockey career and move on to the next level – that's something that is stressed in Flint."

Overall, Beuthin's experience in Flint has been nothing short of fabulous and has made him see why the Jr. Generals find success year in and year out.

"It's hard to pick the one thing that I like most about playing for Flint because there are so many things that I enjoy," Beuthin beamed. "I would have to say being around the boys and feeling like I'm part of a family and knowing that all of them have my back and I have theirs. It's something that's hard to explain, but if you've ever been part of a team like the one that we have in Flint, you'll know what I am talking about.

"Having coach (Steve) Howard, who has played at a level I can only dream of getting to, is amazing. He knows the game so well and it's something every player wishes for in a coach. The same goes for (assistant) coach (Ben) Guzak and Kelly – they know so much about the game that it's crazy. Put all three of them behind a bench and you have something that is extremely hard to match as far as coaching goes and I greatly respect all three of them."

Having strong coaching has been a staple in Beuthin's career and he made a point to say that his coach with the Thunder last season – Dave LaCourt – helped him prepare for junior hockey.

"The thing that prepared me the most for this season was the hard work and commitment that my coach preached to us about and that carried over to the summer where I was doing whatever I could do to make myself a better hockey player and get myself ready for the upcoming season," said Beuthin. "Whether that was lifting weights or running up hills, riding the bike, anything I could do to improve my game. What my coach told us really stuck in my mind and helped me prepare for this season."

So far, Beuthin has contributed at both ends of the ice for the Jr. Generals, but said getting points on the scorehseet isn't what his game is all about.
"I am the type of player who likes to play the body and get the assignment that I am trying to accomplish done as efficiently as possible," Beuthin said. "Whether that's getting the puck out of the zone, making a good pass, shooting the puck on net, skating hard on a back check or taking the body, I think that we have a lot of guys on the team that try to fulfill that same role and do a great job at it and that's something that sets us apart from other teams."

What's in store for Beuthin next year? Another year in Flint? NAHL? College hockey? He knows he will have options and Beuthin plans to explore each and every one of them.
"I would say my short-term goals for hockey would be to get to a point where my skills will get me to the next level, whether that's college or the NA," said Beuthin. "My long term-goals would be to play college hockey. I feel that getting an education is extremely important in today's society and if I could play hockey while trying to do this, it would be a dream come true."