NA3HL announces Combat Hockey 3 Stars of the Week
January 15, 2013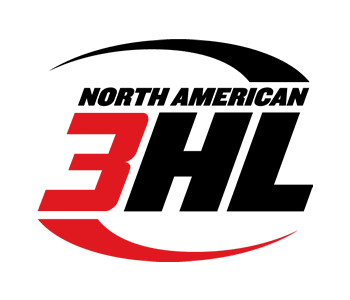 The North American 3 Hockey League (NA3HL) today announced the Three Stars of the Week presented by Combat Hockey for the week ending January 13, 2013. The three stars of the week is an award given each week of the regular season to the top performing players in the NA3HL as nominated by their head coaches.
1st Star: Ed Osowski, forward, Flint Jr. Generals
Flint forward Ed Osowski, 20, is back to his scoring ways. After going through a mid-season lull in November and early December, the Montclair, New Jersey, native let everyone know that his scoring ways are here to stay with a great performance this past weekend as his Jr. Generals swept a pair of road games from the Michigan Mountain Cats. Osowski (5'8/145) had six points (2 goals, 4 assists) in the two wins as Flint kept pace in the East Division. On Friday, Osowski picked up two assists in a 6-2 win. A night later, Osowski was even better as he scored twice (including the game-winning goal) and added two more assists in a 5-0 shutout win over Michigan. Osowski, who leads Flint in scoring with 37 points this season, ran his point streak to five straight games. "It was good for Ed to get back on track a few weeks ago and he has taken the momentum and run with it," said Flint head coach Steve Howard. "He is a pure goal scorer and when he is scoring he has a lot of confidence and plays well at both ends of the rink."
2nd Star: Taylor Brown, forward, North Iowa Bulls
Of all the components that make the North Iowa Bulls go, forward Taylor Brown, 19, is a very important piece of the puzzle that has gotten he Bulls to 1st place. The native of Fitchburg, Wisconsin, put his skills on display this past weekend as the Bulls posted two more big wins over Breezy Point and Twin City. On Friday, Brown (5'9/170) was at his best as he had a goal and three assists in a 7-2 home win over Breezy Point. On Saturday, Brown had two more assists in an 8-3 road win at Twin City. In 28 games this season Brown has racked up 39 points and has failed to record a point in just four of the 28 games. "Consistency and production, that's what really comes to mind when talking about Taylor," said Bulls head coach Todd Sanden. "He is an important part of a great group of players who have made the most of playing here. He works hard every time he steps on the ice and is a guy that we know is destined for bigger and better things."
3rd Star: Damien Lona, forward, Queen City Steam
The Queen City Steam played the red-hot Three Rivers Vengeance this past weekend and suffered two close, one-goal losses. Forward Damien Lona, 19, shined despite being on the losing end as he posted points in five of the Steam's seven total goals during the weekend. On Saturday, the native of Crittenden, Kentucky, had a goal and an assist in a 4-3 loss. The next night, Lona (5'11/185) had two goals and an assist in a 5-4 loss. In the losing effort, Lona was a remarkable +5 in the two games. Lona leads the Steam in scoring this season with 33 points in 28 games played. "Damien is really playing at his best right now," said Steam head coach Lee Lansdowne. "When he plays like he can, he can really produce and he is very good and dangerous around the net."
Honorable Mention (alphabetical order): Nick Balavich, forward, Cleveland Jr. Lumberjacks – Patrick Coburn, forward, Three Rivers Vengeance – Spencer Craig, goaltender, Michigan Mountain Cats – Lukas Daniels, forward, St. Louis Jr. Blues – Austin Fletcher, forward, Flint Jr. Generals – Patrick Kegley, forward, Minnesota Flying Aces – Connor Langfield, defenseman, North Iowa Bulls – Andrew Mitch, forward, Cleveland Jr. Lumberjacks – Allen Patten, goaltender, Minnesota Flying Aces – Ricky Seidel, forward, Alexandria Blizzard - Kyle Shreve, forward, Metro Jets – Zac Sikich, forward, Granite City Lumberjacks – Guy Soulliere, forward, Michigan Mountain Cats – Clint Steinmeyer, goaltender, St. Louis Jr. Blues – Tyler Stepke, goaltender, Three Rivers Vengeance – Matt Stirling, forward, Metro Jets – Chase Wilson, goaltender, Alexandria Blizzard - Eric Woodward, forward, Queen City Steam.