Jr. Generals' goalie off and Running in Flint
January 16, 2013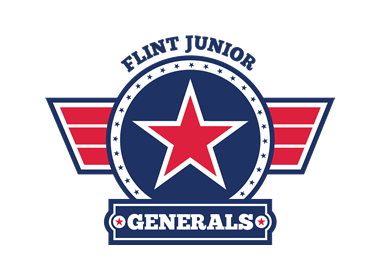 By Matt Mackinder
Ryan Running almost made the Flint Jr. Generals last season as a 15-year-old.
Almost.
The team brass was sold on Running's ability in goal that he was invited to skate and practice with the team throughout last season and then at the team's tryout camp this past summer, Running signed on the dotted line.
"I guess I left a good impression last year," said Running, a 16-year-old from Lapeer. "I talked to a lot of the players from last year's team and they had nothing but great things to say, mostly about the ownership. Gale and Kelly Cronk really do a great job in providing an atmosphere that makes it fun to play and move players on to the next level.
"I knew a lot about the Generals and their history since Iceland Arena is just a short drive from my house. However, I didn't know a whole lot about the NA3 as a whole. This season, I have seen how competitive the league is. There is a lot of NAHL talent in our league just waiting to be looked at."
Young in terms of junior hockey players, Running is Flint's primary backup this season – a role he's perfectly satisfied with.
"This season, I was brought in to be a backup goalie and develop being that I'm only a '96," explained Running. "I think I'm filling my role nicely, playing in games and working hard in practice to hopefully be the starter next season."
Last season, Running played Midget Minor hockey for the Farmington Hills Fire, a team that pointed him in the right direction to make the jump to junior hockey.
"Playing for the Fire really helped me prepare for the grind of junior hockey by practicing about four times a week and playing nearly 80 games," said Running.
Running is also banking on his time in Flint to boost him to the NAHL and ultimately, to college hockey.
"My short-term goals are to hopefully play in the NAHL within the next two years," said Running. "I really think Flint can help me because they really have a great history in developing high-caliber goalies like Ben Myers, Robert Tadazak, Matt Modelski, and the list goes on.
"I really love the atmosphere here in Flint. From our owners to our coaches to the players, I've never had more fun playing hockey."