Nedeljkovic makes impact in goal for Metro
January 21, 2013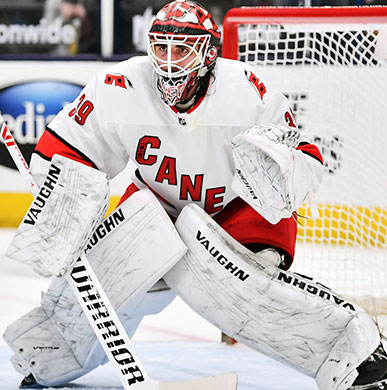 By Matt Mackinder
Goaltender Alex Nedeljkovic will not play another game for the Metro Jets this season, but he sure made an impression in his time with the team during the past couple months.
A 16-year-old who played for the Belle Tire Minor Midget team last season, Nedeljkovic was drafted by the Plymouth Whalers in the sixth round of last April's Ontario Hockey League draft and figured to be the Whalers' third-string goaltender this season.
That's how it started and that was expected, said Nedeljkovic. He just wanted to see some rubber. So calls were made.
"I knew that I wasn't going to get a lot of playing time at the beginning of the season being the youngest goalie in Plymouth," explained Nedeljkovic, a Parma, Ohio, native. "When the time did come where I was going to play my first game, (Plymouth) coach (Mike) Vellucci didn't want to put me in net without being in game shape or having any kind of junior hockey experience, so for the first few months of the season, I would practice once a week with the Jets and play games for them whenever I could."
The level of play in the NA3HL is also just what Nedeljkovic had in mind.
"The NA3HL was what I pictured junior hockey to be like – hard-hitting, guys playing physical and making creative plays," Nedeljkovic said. "Guys were a lot bigger than AAA hockey, their shots were harder, the speed of the game was much faster and guys were always going hard non-stop. It was the kind of hockey that I wanted to play."
Nedeljkovic went 5-3-0 with a 2.49 goals-against average and a .933 save percentage in nine game with the Jets. He has also won six games with the Whalers and is now the primary backup to Carolina Hurricanes' prospect Matt Mahalak. Ironically enough, the Jets' new starting goaltender is Riley Corbin, formerly Mahalak's backup in Plymouth.
"My experience in playing with the Jets was very helpful when I was able to play with Plymouth," added Nedeljkovic. "Having the feel of junior hockey and the quickness of the game really helped me to fine-tune the little things in my game. I took my time playing with the Jets as an opportunity to make myself better, to try and tweak little things and work on them as much as I could. I was able to get a feel for junior hockey while playing with the Jets and that gave me a lot of confidence when I was able to play with Plymouth."
Going back and forth and sometimes practicing with both the Jets and Whalers on the same day was grueling at first, but gradually something Nedeljkovic grew accustomed to.
"I practiced everyday with Plymouth and once a week, I would practice with the Jets after I did with Plymouth," explained Nedeljkovic. "I was very happy to be playing hockey, though. I hadn't played in a game since pre-season with the Whalers, so I knew that my first game back in the net wouldn't be my best and it took a little time to shake the rust off and get used to playing game speed, but I was just looking forward to experiencing the thrill of stopping pucks and playing hockey."
Nedeljkovic added that while his time in Waterford may have been short and sweet, the Jets' organization certainly left a lasting impression on him.
"The first day I got to the rink and practiced with the team, I was very excited that I was given a chance to play some junior hockey for the Jets," said Nedeljkovic. "When I first met (Metro coach) Jason (Cirone), I could tell that he was a great coach that wouldn't take any nonsense from anybody. He wanted to get the most out of his players and would do his best at practice and at games to get 110 percent out of them. I was also looking forward to working with (assistant coach) Randy (Wilson) and hearing what advice he had to give me about my game that could help me fine-tune a few things and make me a better player.
"That's one of the biggest things I liked about the Jets organization – when you were there, you were being pushed to be the best you can be."