NA3HL announces Combat Hockey 3 Stars of the Week
January 29, 2013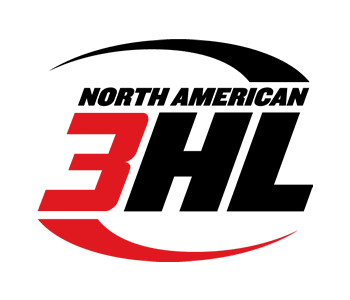 The North American 3 Hockey League (NA3HL) today announced the Three Stars of the Week presented by Combat Hockey for the week ending January 27, 2013. The three stars of the week is an award given each week of the regular season to the top performing players in the NA3HL as nominated by their head coaches.
1st Star: Michael Parda, goaltender, Peoria Mustangs
Mustangs goaltender Michael Parda, 20, took his game to yet another level over the weekend as he shut the door against the Minnesota Flying Aces over the weekend. The native of Waukesha, Wisconsin was perfect in both wins stopping all 66 shots that came his way for back-to-back shutouts. On Saturday, Parda (6'0/145) made 27 saves in a 4-0 shutout and on Sunday he was even better as he stopped all 39 shots that came his way in a 2-0 win. His four shutouts this season are tied for the NA3HL lead and his 94.6% save percentage is tops among all NA3HL netminders this season. "Michael has been so consistent and has been as solid as ever," said Mustangs head coach Jean-Guy Trudel. "Off the ice, he is a totally different person than he was last year. He has completely devoted himself to being in the best shape possible and he is focused on becoming better and wants to play NCAA hockey."
2nd Star: James Hughes, forward, North Iowa Bulls
North Iowa forward James Hughes, 21, racked up a whopping eight points as the Bulls posted a weekend sweep in Quad City against the Jr. Flames. North Iowa clinched a playoff berth and in the process outscored the Flames, 25-2 in the two wins. Hughes (5'8/185) scored in each of the wins and had six assists. He was also a +7 during the weekend sweep. The native of Circle Pines, Minnesota, had a goal and four assists in Saturday's 11-1 win. He had a goal and two assists in Sunday's 14-1 win. "James has become a real good leader for our team," said Bulls head coach Todd Sanden. "His hockey ability makes us better, but his leadership qualities are really making the difference in the long run."
3rd Star: Scott Cuthrell, forward, Cleveland Jr. Lumberjacks
The Jr. Lumberjacks increased their winning streak to 10 straight games this past weekend with road wins in Metro and in Flint and forward Scott Cuthrell, 19, was front and center at the team's production. In the two wins, the native of Waterford, Michigan, had five points (4 goals, 1 assist) in the two wins. On Saturday, Cuthrell (5'8/150) had two goals, including the overtime-winner in a 6-5 win at Metro against the Jets. On Sunday, Cuthrell scored twice again and assisted on the game-winning goal in a 4-1 road win over the Jr. Generals. His 56 points not only leads all Cleveland scorers, but also ranks him tied for 2nd for all NA3HL scorers. "Scott has taken his game to a new level after the holiday break," said Cleveland head coach Bob Jacobson. "He has had great consistency. We moved him to center and he has really has adapted to the all-around game, and as a result, is getting more chances."
Honorable Mention (alphabetical order): Brennan Anderson, forward, Peoria Mustangs – John Arms, defenseman, Michigan Mountain Cats – Tom Diffendal, forward, Three Rivers Vengeance – David Heflin, goaltender, Cleveland Jr. Lumberjacks – Dominic Juncaj, goaltender, Michigan Mountain Cats – Zak Kemble, goaltender, Queen City – Simon Koscielski, defenseman, St. Louis Jr. Blues – Connor Langfield, defenseman, North Iowa Bulls – Chase Leonelli, forward, Three Rivers Vengeance – Drew Otto, forward, Granite City Lumberjacks – Mattheu Raiola, defenseman, Granite City Lumberjacks – Alec Rounds, goaltender, Queen City Steam – Clint Steinmeyer, goaltender, St. Louis Jr. Blues – Matt Stirling, forward, Metro Jets – Tyler Zalecki, forward, Toledo Cherokee.