Flint's Franke has NAHL experience, wants to get back
February 1, 2013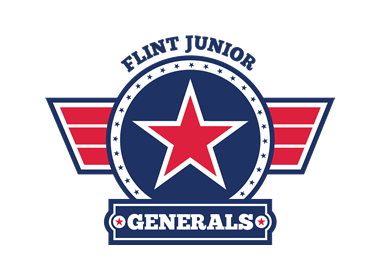 By Matt Mackinder
Anders Franke began this season with the Bismarck Bobcats of the North American Hockey League, but due to the numbers game, he didn't see the action he was looking for.
The Flint Jr. Generals, on the other hand, could offer him the playing time he sought and Franke signed to play with Flint in late November.
"I ended up leaving Bismarck because I was going to be the third goalie that would just practice and I wanted to play games," said Franke, a 19-year-old from Zimmerman, Minn. "So about 2 ½ months later, (Jr. Generals') Coach (Steve) Howard saw I was available and that's how I got here."
Franke said he wasn't quite sure what to expect coming to the Jr. Generals, but has come away impressed by how the organization and the NA3HL as a whole is run.
"To be honest, I didn't really know much about the NA3 until about three months ago," Franke said. "I've always been involved in the USHL or NAHL with either draft picks or tenders, but now that I'm here, I understand what it is and I feel that Flint is an ideal place to play in the NA3 because Coach Howard knows a lot of people and we are surrounded by three NAHL teams and one USHL team."
Leaving his comfort zone known as home has been a challenge, admitted Franke, who said the small things like celebrating a birthday are different than what he would have experienced in Minnesota.
"It's a lot different because you don't have that bed you've slept in for 19 years of your life and you don't have your parents at your side when something happens," explained Franke. "Just from being away, I've really grown up and learned a lot of life lessons I wouldn't have learned if I was at home with my family. I just had my birthday on Jan. 18 and that was for sure different than being home."
Making the leap to junior hockey is no easy task for anyone, but Franke said last year with Elk River High School challenged him as an individual and readied him for the rigors of juniors.
"I think I got prepared by the strength of our schedule last year and from playing in the Upper Midwest Elite League in the fall, which consists of all the top Minnesota high school players in the state," Franke said. "Our schedule last year was one of the tops in the state and you knew you had to come ready to compete day in and day out just like in juniors. No off nights, for sure."
Back home in hockey-crazy Minnesota is where Franke first picked up the game and also where he realized he wanted to be a goaltender.
"I have played goalie for 13 years," said Franke. "I first strapped up the pads when I was six years old playing Mite hockey in Elk River and it took of from there to become the weird guy everyone says goalies are."
Weird or not, Franke said the goalie position is pressure-packed, but he can handle the tension.
"My strengths as a goalie are for sure not my height, but my quickness in the net and to get from point A to point B to make a save," Franke said. "I've always had to become quicker with my game because I know I'm only 5-foot-7 and can't stay back in the net like some goalies can. I have to challenge myself to stay outside the top of the crease and give the shooter nothing and adjusting to the pass quickly if it happens."
With a 6-2-1 record in his short time in Flint, Franke has also seen what it takes to play for a high-level junior organization.
"The reason why Flint is successful each year is because of the veteran leaders on the teamT" said Franke. "The guys who have played junior hockey for 3-5 years know the ropes and show you how to compete night in and night out. As of right now, we have hit a big bumpy trail since I got here. Last year, my team had to go through a lot of adversity too during the season with losing our coach, Tony Sarsland, who resigned two-thirds of the season in, but you learn to deal with it and work harder than you have before."
With just a handful of weeks left before the NA3HL playoffs, Franke knows what's at stake each time Flint steps onto the ice.
"I think my short-term goals and like anyone else's on the team – finish the season out with a winning record and win the championship at the end of the season," Franke. "Everyone wants to win and I think we have the team here in Flint that can do it."