Bandits' spirits high after holiday break
January 5, 2009
by By Brian McDonough | NAHL.com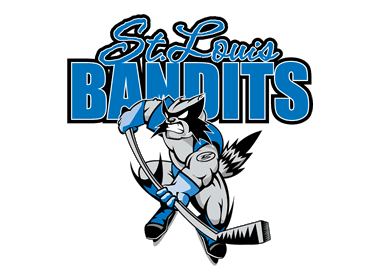 Read the full NAHL Weekly Release.
Fresh off of the Christmas break, the St. Louis Bandits showed no signs of a holiday hangover on their way to four wins in five games last week to open the second half of the season.

"It was important that we got off to a good start because our division is so tight and competitive right now," said Bandits head coach Jeff Brown, whose team improved to 27-7-3 on the year. "And come the end of the season, every point could make a difference in the standings."

The Bandits opened the post-Christmas break with a pair of victories over the Topeka RoadRunners, followed by two wins and a loss against the Wichita Falls Wildcats with Sunday's contest - a 6-0 Bandits shutout - showcased in front of over 5,000 fans at Scottrade Center, home of the NHL's St. Louis Blues.

"I just think our guys came back refreshed and focused," said Brown. "It would've been easy for them have a slow start coming off break, but they've come back and really showed that they want to improve and make a nice run in the second half of the season."

Andrew Hamburg wasted no time getting back in the groove. The 19-year-old from Phoenix rang up a goal and six assists over the five games to take over the NAHL's scoring lead with 46 points.

"He's a high-end forward in this league and has been an offensive leader for us with his consistency and timely playmaking," said Brown of the Colorado College recruit. "Having only two players back from last year's national championship team (forward Grant Gorczyca is the other), we're looking for a guy like Andrew to show the rest of the players what it takes to win a championship at this level."

In his first year with the Bandits, goaltender Keith Kinkaid, a New York native, has been nothing short of dominant between the pipes. The 19-year-old picked up four wins for the Bandits last week and has now won his last 10 starts, three of which have been shutouts.

"Keith has been very consistent for us," said Brown. "He's been making the saves he should make and giving us a chance to win every night.

"What separates Keith from a lot of goaltenders is his work ethic and preparation, and we expect him to keep playing solid hockey as the stretch run approaches."

Defensively, St. Louis has bolstered its blue line in recent weeks with the acquisitions of Shawn Jameson from Wichita Falls and Danny Weiss from the USHL.

"Adding guys like Shawn and Danny gives us stability on the blue line and also boosts our power-play unit," said Brown.

Kris Reinthaler has impressed on the backend all season long. The 20-year-old defenseman from Graz, Austria, leads the entire NAHL with a plus-26 rating.

"Kris brings a wealth of experience and skill to our defensive core," said Brown. "He's a vital piece to our puzzle and we expect him to elevate his game even more in the second half."

Neck-in-neck with Topeka for the top spot in the South Division – both teams have 57 points with the RoadRunners holding three games in hand - the Bandits like the cards they're holding as the second half gets underway, but knows they need to continually stress improvement.

"It was a pretty good first half of the season from our point of view," said Brown, in his first season behind the team's bench. "We're never satisfied, but we're happy with the progress we've made since the Showcase early in the season.

"Our players and coaches continue to have the attitude that we still haven't played our best hockey yet, so we need to continue to work hard in practice and strive to get better."

With that said, the two-time defending Robertson Cup champion Bandits aren't looking too far ahead in its quest for a three-peat, especially in such a competitive division.

"We're pleased with the development of our players so far this season, but we have a lot of work to do before the playoffs begin," said Brown. "Our older players have been there when we've needed them and we'll continue to count on them in the second half right into the playoffs."

And continued success should translate into plenty of college opportunities. With six selected to this month's NAHL Top Prospects Tournament - Kyle Greco, Brendan Sheehan, Tyler Elbrecht, Gorczyca, Jameson and Kinkaid - the Bandits will no doubt have good news to report on the scholarship front in the coming weeks.

"We have a lot of guys getting attention right now, and if we keep winning and guys keep producing, then hopefully the college stuff takes care of itself," said Brown.
AROUND THE NAHL
ALASKA AVALANCHE: Goaltenders Dylan Woodring (18 saves) and Nate Pellegrino (19) both allowed only two goals against to earn victories in a two-game sweep over Kenai River.

ALBERT LEA THUNDER: Jake Armijo (goal, two assists) and BJ McClellan (three assists) were the Thunder's top point-getters last weekend as it dropped a pair of games.

ALEXANDRIA BLIZZARD: Joe Knoepke tallied a goal and an assist, as well as a goal in the shootout, as the Blizzard knocked off North Iowa on Friday, 4-3.

ALPENA ICEDIGGERS: Goaltender Nick Graves steered aside all 33 shots in a 2-0 victory over Marquette on Friday, marking his fourth shutout of the season and tying him for most in the NAHL.

BISMARCK BOBCATS: First-year forward Jason Fabian, from Roseau, Minn., has committed the Air Force Academy (Atlantic Hockey) for the 2010-11 season.

FAIRBANKS ICE DOGS: The Ice Dogs traded defenseman Brad Treml to Bismarck for Josh Nelson, a 19-year-old defenseman from Nekoosa, Wis., who played in 26 games for the Bobcats this season.

KENAI RIVER BROWN BEARS: Defenseman Jared Beers struck for a goal and two assists as the Brown Bears dropped a pair of games to Alaska.

MAHONING VALLEY PHANTOMS: First-year forward Cole Schneider, from Williamsville, N.Y., has committed to the University of Connecticut (Atlantic Hockey) for the 2010-11 season.

MARQUETTE RANGERS: Goaltender Dan Sullivan stopped 55 of 59 shots in two games as the Rangers split a weekend set with Alpena. "Dan was on his game," said head coach Kenny Miller. "He gave us a chance to win both nights and that's all you can ask out of your goalkeeper."

MOTOR CITY MACHINE: Idle last week, the Machine will kick off 2009 with a pair of games in Mahoning Valley on Friday and Saturday.

NORTH IOWA OUTLAWS: Jack Paul extended his franchise-record point-scoring streak to 15 games last weekend, which is the longest in the NAHL this season and nearing the league's modern record (20 held by three different players).

OWATONNA EXPRESS: Air Force recruit Stephen Carew rang up two goals, including the overtime game-winner, in the Express' 6-5 triumph over Albert Lea on Saturday.

SPRINGFIELD JR. BLUES: Springfield's leading-scorer and Top Prospects Tournament selection Nick Curry racked up three assists in three losses to Topeka last weekend.

ST. LOUIS BANDITS: Defenseman Danny Wiess has two goals and five assists in nine games with the Bandits after being picked up from the USHL's Lincoln Stars.

TOPEKA ROADRUNNERS: Bryon Paulazzo collected a goal and four assists last week as the RoadRunners fashioned a 3-1-1 record. "With the Top Prospects Tournament just around the corner, Bryon is a forward that everyone should have their eyes on," said head coach Scott Langer.

TRAVERSE CITY NORTH STARS: North Stars' leading-scorer Kyle Bonis levied a goal and five assists as TC skated to a 2-1 mark against Mahoning Valley. "Kyle's consistently among our best forwards night in and night out, and a big part of everything we do," said North Stars head coach Anthony Palumbo.

TEAM USA: The U.S. National Under-17 Team (4-0-1-0) won the bronze medal at the 2009 World Under-17 Hockey Challenge held in Port Alberni, British Columbia.

WENATCHEE WILD: On a line together, Mike Voran and DJ Vandercook have been clicking offensively. "They have tremendous chemistry," said head coach Paul Baxter. "They're both from Detroit and have been close friends and teammates since their boyhood days."

WICHITA FALLS WILDCATS: Second-year forward Jeff McNeil, from Mulliken, Mich., has committed to Ohio State University (CCHA) for next season.