Jets' rookie MacKay aiming for strong finish to season
February 13, 2013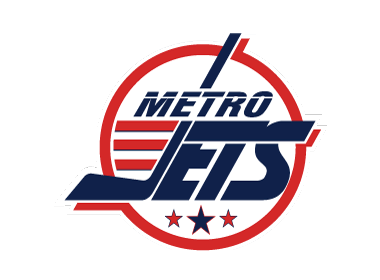 By Matt Mackinder
Admittedly, Zack MacKay hasn't had the season he envisioned when he signed with the Metro Jets last summer.
Suffering an injury in the season-opening game against Battle Creek, the 19-year-old forward from Brighton said that set him back a bit, but he has continued to improve and round out his overall game to the point where it's obvious why the Jets tabbed him in the second round of last summer's NA3HL draft.
"I had come to one of the open tryouts and immediately, one of the assistant coaches came up to me and asked where I planned on playing and which teams I had talked to," said MacKay. "I told him the only place I had gone to try out was for the Michigan Warriors in the NAHL and that another NA3HL team was interested in me. After the first skate, (Metro head coach) Jason (Cirone) called me out of the locker room and told me he wanted me and said he was going to try and draft me in the first round. I told him I'd love to play for him and had no interest in the other team.
"I didn't know much of anything about the team or the league, but one of my coaches last year (with the Detroit Falcons 18U AAA team in the NAPHL) had told me about Jason and the Jets and said it'd be in my best interest to go skate with them and see how it was. Last year was my first time playing AAA. I had played high school before that and it was a lot faster and better competition. It helped me prepare for juniors just with the speed of the game play."
MacKay planned on being among the team leaders in scoring this year, but it hasn't panned out. He said the injury played a major role.
"I feel the role I carry is that of leadership and playing physical, as well as playing strong defensively," MacKay said. "With my injury in the first game of the season, I had lost a lot of what I trained for in the summer – shooting, stickhandling and overall conditioning. I truly don't think I've had a good season at all. The injury set me back way too much and since then, I haven't been able to get back to where I was."
As a team, the Jets have played with a young roster all season and are currently mired in fifth place in the East Division – out of the playoffs at this point. That said, no one is throwing in the towel on this season.
"The mood is constant throughout the team where everyone is sick of the results we have been getting," MacKay said. "I think our captain, Matt Stirling, is best at keeping everyone loose. We're not trying to be loose about the situation, but it's hard to keep a positive attitude when everyone does their job, works hard, but we just can't get a break.
"We need to take it one game at a time, while keeping the whole picture in mind. Yeah, we need to focus on the next game at hand, but we also need to remember that each game is crucial for us to get a playoff spot. Everyone has been showing more heart lately, so I'd have to assume everyone else is thinking the same way."
And going one day at a time is the same philosophy MacKay takes when it comes to his individual career.
"My long-term goal is to play college hockey, but as the season has progressed, I think it's been changing to just playing in the NAHL or BCHL or any higher tier," said MacKay. "It's changed because of the situation the team is in now and how we need to take it one game at a time. For me, it's the same idea – one level of hockey at a time."