Toledo rookie Fogarty impressive on and off the ice
March 7, 2013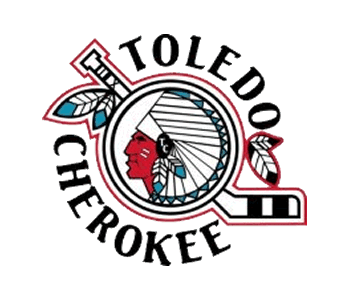 By Matt Mackinder
In his rookie season with the Toledo Cherokee, forward Jordan Fogarty is averaging nearly a point per game.
Not too shabby for a player that only turned 17 in November.
Equally, if not more impressive is what Fogarty has accomplished off the ice nearing the end of his junior year at Madison High School in Adrian, Mich.
"By going to high school in Adrian and playing 45 minutes away in Toledo, I have had to improve my time management skills in juggling practice, games and school," said Fogarty.
And yet, Fogarty still has an overall grade-point average of 4.09.
"I know that at the end of the day, the better my grades are, the more opportunities will be available to me," Fogarty added.
On the ice, Fogarty has recorded 17 goals and 38 points in 43 games, helping the Cherokee to the fourth and final playoff spot in the tough East Division, barely edging out the Metro Jets, who actually swept the Cherokee in a home-and-home set last weekend.
"On a personal level, I am extremely happy with the progress my game has made, but I know I need to improve to make it to the next level," said Fogarty. "My speed and strength have improved the most this year as I have been practicing and playing six days a week with bigger players.
"As a team, we have had a season full of ups and downs and still have some work to do in the playoffs."

Toledo will play the Cleveland Jr. Lumberjacks in the opening round of the NA3HL playoffs, not an easy task, according to Fogarty.
"It is going to take a total team effort in order to knock off a top team like Cleveland," Fogarty said. "We have played many teams this year and Cleveland is by far one of the best teams in the NA3HL."

Speaking on his future, Fogarty said he will do "whatever it takes" to one day skate for an NCAA Division I team, but wouldn't rule out playing for his hometown team, where his father, Ron, is the head coach of the NCAA D-III squad.

"I am a junior in high school this year and I am open to finishing high school anywhere while playing at the highest level I can," said Fogarty. "My goal, like every junior hockey player, is to play D-I hockey, but if that does not work out, I would love to play at Adrian College."
As for his father, Fogarty said he has allowed him to mature and seek out his own avenues to succeed.

"My dad is very supportive, but allows me to make my own decisions," said Fogarty. "I am lucky that I can ask questions about my game and he will tell me what I need to hear, not what I want to hear, and I respect that."
On or off the ice, there's definitely a lot to respect about Jordan Fogarty.