Ted Barile having success with Jr. Generals, older brother Casey
March 8, 2013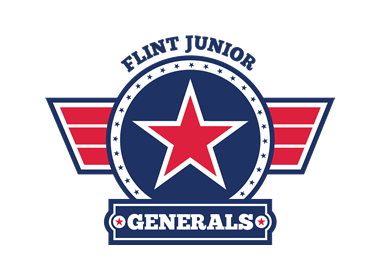 By Matt Mackinder
Last year during the NA3HL playoffs, Ted Barile had a vested interest in the Flint Jr. Generals.
First, he was watching the team that had signed him to a tender for this current 2012-13 season.
Secondly, Casey Barile, Ted's older brother, was playing for Flint trying to bring a championship back to the Vehicle City.
Fast-forward to this year and Barile has stuck with the Jr. Generals all season and has posted nine wins, a 3.04 goals-against average and a .902 save percentage playing in a tandem with Anders Franke and joining Casey on the same team for the first time in a long while.
"It has been great playing with Casey this year," said Barile, an 18-year-old from Ballwin, Mo. "We played high school together, but this has been much different. We hang out together every day and so far, we have had some great times together. I'm glad I got the chance to play a year of juniors with him.
"I didn't know very much about the NA3HL before this year. I watched a few games last year and I saw that it was fast-paced and a lot more skill than I had thought there would be. So far this year, I have been very pleased with the competition I have faced."
Barile skated for the St. Louis Blues U18 AAA team a year ago and said it did wonders for his development to be able to play in the NA3HL.
"I think last season helped me prepare for juniors by giving me the experience and game time I needed to gain goaltending experience," Barile said. "This year has been different from last season in a lot of ways. Last year, everyone was off doing their own thing and this year, it has been like a big family. Also, I got lucky with my goalie partners this year with Anders and Ryan Running. They have been great."
Another "great" aspect to playing in Flint is billeting with co-owner Kelly Cronk and his wife, Lisa.
"The success of the organization starts with the ownership and Gale (Cronk) and Kelly do everything they can and it's all for the player's benefit," said Barile. "Living away from home has been a big change for me. Not getting to sleep in my own bed might be the worst part, but my living situation this year has been great. Kelly and Lisa have made me feel right at home and they treat me very well."
And if Flint can advance deep into the NA3HL playoffs and "have a good run with it," hopes Barile, that will be the capper on what has been a very eye-opening experience with the Jr. Generals.