North Iowa completes historic regular season
March 11, 2013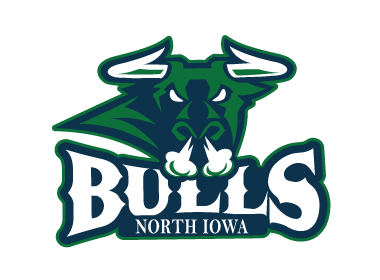 By Randy Russon
They are full of Bull in North Iowa, specifically Mason City.
Mason City is home to the North Iowa Bulls, who are a model franchise in just their second season of North American 3 Hockey League existence.
The Bulls put the finishing touches on a spectacular 2012-2013 regular season with a pair of home-ice victories last weekend. North Iowa lost only four games in regulation time this season, finishing with an overhelming record of 41-4-3, including a home-ice mark of 22-0-2.
As North Iowa was a regular-season success on the ice, the Bulls also led the 17-team NA3HL with an average attendance of 821 fans per game.
The architect behind the North Iowa on-ice structure is coach-general manager Todd Sanden, a 48-year old native of Anoka, Minnesota.
Sanden took the North Iowa job to begin the 2011-2012 NA3HL campaign and led what was an expansion team to a regular-season record of 29-15-4, an astonishing feat for a first-year club that came into existence without a single player on its roster. The Bulls followed their regular-season success of 2011-2012 by winning three of five playoff games before being eliminated.
It's been a return to Mason City for Sanden, who was an assistant coach with the erstwhile North Iowa Outlaws of the North American Hockey League in 2009-2010. Sanden stayed in the NAHL as an assistant for a second season in 2010-2011 when the Outlaws moved to Coulee Region and were re-named the Chill.
But he jumped at the chance to return to North Iowa in 2011 when the NA3HL set up shop in Mason City under the ownership of Consolidated Sports Holdings, which also owns the Amarillo Bulls and Texas Tornado of the NAHL as well as the Everett Silvertips of the Western Hockey League.
"It's a good fit for me being the coach and GM of the Bulls and being back in Mason City," said Sanden who lives 150 miles apart from his wife and their son and daughter during hockey season.
As the Bulls are an NA3HL powerhouse with that 41-4-3 regular-season record, they are far from the only strong entry in the six-team West Division, with the Granite City Lumberjacks and Alexandria Blizzard not far off the pace.
"The caliber of play in the 3HL is good. We are lucky to have strong teams in our division that push the pace almost every game," said Sanden. "I feel the 3HL is a great development option for those players who are just a step below the caliber of Tier 2, NAHL players. We actually have several players in our program who have played one or multiple years in the NAHL. They have come here to finish their junior careers in a place that offers the opportunity to play more and be scouted by the area Division 3 (National Collegiate Athletic Association) schools as well the Division 1 club teams."
Sanden feels the Bulls have much to offer as an NA3HL program.
"We have an atmsophere that offers more than a lot of NAHL teams. We are very fortunate to have the fan base we have and we can thank the United States Hockey League and the NAHL for developing it in their time in the North Iowa area," Sanden added.
Sanden saluted the North Iowa area fans as well as the media coverage the Bulls receive.
"We have the most passionate fans in the world, they actually travel to road games and support our team," Sanden offered. "It is not uncommon to have anywhere from 40 to 100 fans on the road with us. They organize buses and get group ticket rates for our away games. It is really fun to be a part of a team that gets that kind of support. Our local media is also outstanding. The Globe-Gazette newspaper, KIMT-TV and many of our local radio stations cover the team."
Although many of the Bulls top players -- including goalie Matthew Bartels, defenceman Connor Langfield and forwards James Hughes, Eric Behrend and Patrick Sivets -- will age out after this season, several others will either return to North Iowa next season or move up to the NAHL.
Top candidates to land in the NAHL full-time next season include 1994 birth year defenceman Matthew Fosdick, 1993 defender Bryan McFarlane and 1994 forward Tony Paulson.
Fosdick has been tendered by Soo Eagles of the NAHL for the 2013-2014 campaign after playing in two games with them earlier this season following an earlier cup of coffee spanning seven games with Coulee Region in 2011-2012.
McFarlane already has 56 games of NAHL experience with four teams over two seasons and could join Fosdick in the Soo come the 2013-2014 campaign.
Paulson began the current season in the NAHL and played three games with the Fairbanks Ice Dogs before heading to North Iowa.
Bruno Bragagnolo, coach-general manager of the Soo's NAHL team, is a fan of Sanden and the North Iowa program.
"He knows what he's doing, he's a really good coach," Bragagnolo said of Sanden. "North Iowa may be an NA3 team but Todd runs that program as well as some of the best franchises in the NAHL."
Well noted, Bruno. Well done, Todd.