Mustangs take time out for Peoria community
March 12, 2013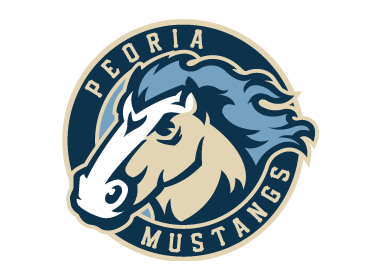 The Peoria Mustangs of the North American 3 Hockey League (NA3HL) have spent the last few weeks gearing up for the NA3HL Silver Cup Playoffs. However, a big part of that has been their presence in the Peoria community.
First, Head Coach Jean Guy Trudel sat down for a television interview on a local program to discuss the Mustangs and their tradition of playing junior hockey in Peoria.
"We have playing hockey in Peoria for 13 years now and have made the playoffs in all 13 years, and we are in the playoffs again and ready to go to battle to try and win a Championship," Trudel told the show. "Paul Wayvon has done a great job on the business side and keeping hockey in Peoria."
"The NA3HL does a great job and preparing the players for college life. They travel all over the country to play in a very competitive league. We try and make sure we have good character players with goals set and try to provide them a great experience."
The Mustangs players then took to the community to visit kids that were in the OSF Sick Children's Hospital in Peoria. Some comments from fans were:
"This is what it's all about boys!!!! Never underestimate the power of the happiness you can bring to these kids! It truly helps with their healing!" –Keri
"You guys are awesome! Those kids will remember that day forever!" –Lora
Players who took time out to visit the sick kids were: Michael Parda, Nikolas Sakellaropoulos, Cory Kettler, Blake Ortman, Alexander Turin and Gage Van Order.
Peoria opens their Central Division Semi-Finals at home against Queen City on Friday, March 15th.