NA3HL announces Combat Hockey 3 Stars of the Week
March 12, 2013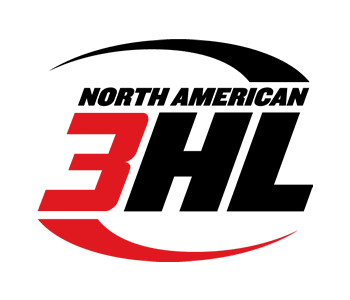 The North American 3 Hockey League (NA3HL) today announced the Three Stars of the Week presented by Combat Hockey for the week ending March 10, 2013. The three stars of the week is an award given each week of the regular season to the top performing players in the NA3HL as nominated by their head coaches. This will the final three stars of the week award for the 2012-13 season as the regular season has concluded.
1st Star: Tyler Zalecki, forward, Toledo Cherokee
Toledo, who will be in the NA3HL Playoffs, wanted to be sure they went into the post-season on a high note and that's what they got this past weekend with a home-and-home sweep of the Michigan Mountain Cats in their final regular season games of the year. Leading scorer and forward Tyler Zalecki, 17, ended his regular season campaign on a high note with six points (5 goals, 1 assist) in the two wins, which included scoring the game-winning goal in both games. On Friday, the native of Toledo, Ohio, had two goals (including the game-winner) and an assist in a 5-4 win. On Saturday, Zalecki (5'10/185) recorded a hat-trick, which included the game-winning goal again in a 6-3 win at home. He led the Cherokee in scoring this season with 52 points in 47 games played. "Tyler was our most dominate forward all weekend, he is a threat to score every shift," said Toledo head coach Kenny Miller. "He is very worthy of this honor, I am very proud of his weekend and his season to be one the youngest players in the league and put up the numbers he has demonstrates how high his skill set is."
2nd Star: Matt Kroska, forward, North Iowa Bulls
For being his team's leading scorer this season with 74 points, North Iowa forward Matt Kroska, 20, had done it without much pomp and circumstance. The name of the game for the native of Elko, Minnesota, has been consistency and the ability to produce, which is exactly what he did during his final weekend of the regular season. Kroska (5'8/170) racked up eight points (2 goals, 6 assists) in two wins as North Iowa finished with the league's second-best record. On Friday, Kroska recorded three assists (including one on the game-winning goal) in a 5-2 win against Breezy Point. On Saturday, he recorded two goals and had three assists in a 14-1 win over the Twin City Steel. He was also a +7 in the two wins. "Matt was so consistent all season long, but has really been good down the stretch for us," said North Iowa head coach Todd Sanden. "He has great vision and can really distribute the puck. He also is very good at creating with his skill."
3rd Star: Scott Cuthrell, forward, Cleveland Jr. Lumberjacks
The NA3HL's Forward of the Month for February, Cleveland's Scott Cuthrell, apparently has no plans of slowing down in March. The 19-year-old from Waterford, Michigan, had another outstanding weekend as he recorded seven points (6 goals, 1 assist) in two games in a weeekend road split with the Metro Jets. Cuthrell's (5'9/160) big night came on Saturday as he recorded five goals and an assist in a 9-2 win. The next day, he added another goal in Cleveland's 4-3 loss. The seven points during the weekend secured the NA3HL scoring title for Cuthrell, who finished as the NA3HL's top scorer with 89 points (47 goals, 42 assists) in just 46 games played. "Scott has been our MVP this season, there is no question about that," said Cleveland head coach Bob Jacobson. "He plays with a lot of confidence and believes in himself and that he is going to go out there and try and be the best. There was a time that our captain was out of the line-up and he really stepped his game up and took his game to a new level during that time."
Honorable Mention (alphabetical order): Brennan Anderson, forward, Peoria Mustangs – Doug Andrews, forward, Metro Jets – John Arms, defenseman, Michigan Mountain Cats – Tyler Belmont, forward, Queen City Steam – Jeremy Edwards, forward, St. Louis Jr. Blues – Jake Leon, goaltender, Quad City Jr. Flames – Ron Lindgren, defenseman, North Iowa Bulls – Tanner Litvinoff, defenseman, Quad City Jr. Flames – Adam Morrison, forward, Michigan Mountain Cats – Stephen Pack, forward, Queen City Steam – Zac Sikich, forward, Granite City Lumberjacks – Andrew Sprouse, defenseman, Cleveland Jr. Lumberjacks – Clint Steinmeyer, goaltender, St. Louis Jr. Blues – Matt Stirling, forward, Metro Jets – Aidan Verbeke, forward, Granite City Lumberjacks.