NA3HL Silver Cup Tournament less than a week away
March 21, 2013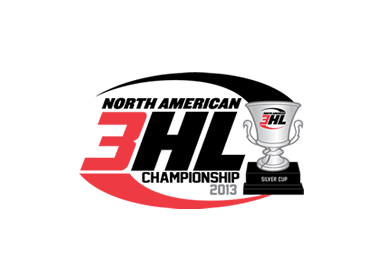 The North American 3 Hockey League (NA3HL) Silver Cup Championship Tournament is less than a week away. The NA3HL Silver Cup Championship will feature six teams and be played at the Fox Valley Ice Arena, Geneva, Illinois, from March 27-30. Participants in the Silver Cup are being determined by the ongoing Divisional Semi-Finals, which will be completed this upcoming weekend. Three of the six teams have already advanced to the tournament by winning their Divisional Semi-Finals series. Those that have already advanced are: the St. Louis Jr. Blues, the Cleveland Jr. Lumberjacks and the Peoria Mustangs.
The six divisional semi-final playoff series winners will be placed in two, three-team pools. Teams will be seeded according to their finish in the NA3HL regular season standings. A round-robin format will be used, with the teams playing the other two teams within their pool. The top team in each pool after round robin competition will advance on to play for the Championship. The bottom four teams at the conclusion of round robin play will be eliminated from the tournament. In the event of a tie after round-robin play, a tiebreaking procedure adopted in the rules and regulations shall be used to break the tie.
Pool A: #1 seed, #3 seed, #6 seed
Pool B: #2 seed, #4 seed, #5 seed
Wed, March 27: #1 vs. #6, 5:00pm; #2 vs. #5, 8:00pm
Thu, March 28: #3 vs. #6, 2:00pm; #4 vs. #5, 5:00pm
Fri, March 29: #1 vs. #3, 3:00pm; #2 vs. #4, 6:00pm
Sat, March 30: Championship, Pool A winner vs. Pool B winner. 1:00pm
All event information including: schedule, ticket information, scouting information, venue, hotels, car rentals and more can be found on the NA3HL Silver Cup website at:
http://cup.na3hl.com/
For those that can't make it to the event, all Silver Cup Tournament games will be broadcast live on FASTHockey.
The winner of the NA3HL Silver Cup will then advance to play in the USA Hockey Tier III Junior National Championship being held in Rochester, Minnesota from April 4-8.
Past Silver Cup (formerly Hurster Cup) Champions:
2012-Granite City Lumberjacks
2011-Chicago Hitmen
2010-St. Louis Jr. Blues
2009-Dubuque Thunderbirds
2008-Dubuque Thunderbirds
2007-Dubuque Thunderbirds
2006-St. Louis Jr. Blues
2005-St. Louis Jr. Blues
2004-St. Louis Jr. Blues
2003-St. Louis Jr. Blues
2002-Metro Jets
2001-Metro Jets
2000-St. Louis Jr. Blues
1999-Toledo Cherokee
1998-Motor City Chiefs
1997-Toledo Cherokee
1996-Motor City Chiefs
1995-Toledo Cherokee
1994-St. Louis Jr. Blues
1993-Wayne Chiefs
1992-Downriver Blades
1991-Wayne Chiefs
1990-Metro Jets
1989-Lytes Rustlers
1988-St. Louis Jr. Blues