Bulls punch ticket to Silver Cup
March 22, 2013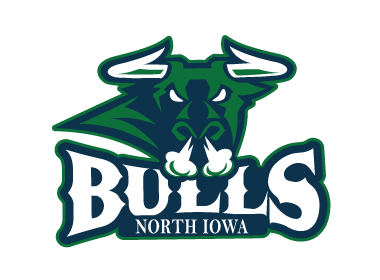 North Iowa 6 @ Minnesota 0 (North Iowa wins best of five series, 3-0)
The North Iowa Bulls punched their ticket to the Silver Cup Championship Tournament with a 6-0 win in Game 3 on Thursday night in Little Falls, Minnesota against the Flying Aces.
The Bulls dominated in the shot category, outshooting Minnesota 44-22. However, it wasn't until 12 minutes into the opening period that North Iowa scored as Tim Santopoalo lit the lamp for the eventual game winning goal.
The next three goals were scored by North Iowa's Kyle Krueger, who scored two goals in the 2nd period and the first goal of the 3rd period to make it 4-0. It was Krueger's first hat-trick of the season.
Matthew Fosdick and Matt Kroska added two more goals late in the 3rd period to complete the sweep and 6-0 final.
North Iowa goaltender Matt Bartels recorded the shutout, making 22 saves and also picked up an assist on the game-winning goal in the 1st period. Minnesota's Jared Stearns made 38 saves in the loss.
Kroska, Santopoalo and Fosdick all had multi-point games, while Patrick Sivets and Chancie Hanson each recorded a pair of assists.
With the win, North Iowa advances to the NA3HL Silver Cup Tournament, where they will be the #2 seed. Their pool will consist of the winner of the Granite City/Alexandria winner and also the Flint/Three Rivers winner.