Silver Cup bound Flint has tradition of advancing players
March 23, 2013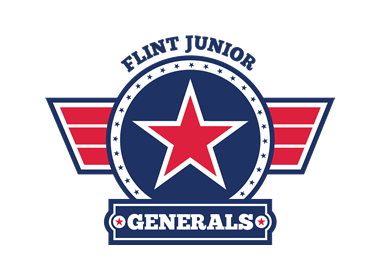 By Matt Mackinder
The past 12 months or so have been a revolving door in Flint, but in a positive way as the Jr. Generals' organization continues to advance its players both during and after the season to higher levels of hockey.
The upward trend began last summer when then-head coach Jeff Worlton was named an assistant coach with the NAHL's Corpus Christi IceRays and added two more names recently as defenseman Nick Goettel and forward Eddie Osowski each committed to NCAA Division III Becker College for the 2013-14 season.
Both Goettel and Osowski were scouted at the NA3HL Showcase in Troy, Mich., in February and both committed to Becker shortly thereafter.
"I jumped on the opportunity because I knew that Becker would be a great fit for me," said Goettel. "It wasn't really until my sophomore year in high school when I realized that I had the potential to play college hockey one day. I was playing for Davison High School at the time and I got a few looks from a couple of junior teams and college programs. My coaches informed me that college hockey was definitely a possibility.
"When I came to the Flint Jr. Generals, that possibility just continued to grow because I was getting better everyday. I was starting to get looks from a lot of colleges, but I knew Becker College was the right choice for me."
Osowski said going to Becker was the best choice for him.
"I weighed my options and felt Becker was a great opportunity me," said Osowski. "I'm excited to be going to school at Becker and I'm glad I will be going with Nick. My expectations for next year are to step in and be an impact player helping lead to a successful season for the team."
Over the course of the current 2012-13 season, Flint also saw defenseman Connor McGovern get called up by the NAHL's Kenai River Brown Bears, forward Lucas McDiarmid to Corpus Christi and goalie Ben Myers (2012-12) start the season with the Minot Minotauros and finish with Corpus Christi. Forward Jake Howie has also signed an NAHL tender with Corpus Christi.
Take into consideration that players with NAHL experience like Eric Jones, Anders Franke, Rob Click and Jacob Peacock also came to Flint to hopefully get moved on and the Jr. Generals have all the right things happening for its players in the Vehicle City and in all of Tier III hockey.
"The NA3HL has definitely had a huge part in preparing me for NCAA hockey," Goettel said. "It's a great league because everyone who plays in it shares the same goal and that's to play college hockey. The speed, competitiveness and overall skill level of the players is as good as any other junior league and it's impossible to not find yourself improving each and every day in this league.
"Flint has been really great for me in developing my game for the college level. The guys on my team are unbelievable and just competing with them each and every day throughout the season has done a lot for my development as a hockey player. I wouldn't be here if it wasn't for the never-ending support from (Flint owner) Kelly Cronk, (head coach) Steve Howard and (assistant coach) Benjamin Guzak."
"Kelly Cronk runs a great organization and has moved a fair amount of players on," added Osowski. "I definitely have no regrets coming out to Flint to be a Jr. General."
Flint moved onto the Silver Cup Championship Tournament with a 2-1 overtime win on Friday night, as they swept the Three Rivers Vengeance.