Jr. Flames head shaving another huge success
March 25, 2013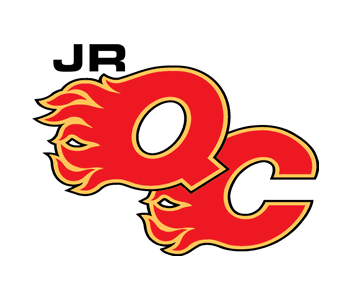 After spending all season growing out their "hockey hair," 20 Quad City Jr. Flames players had it all shaved off following their final regular season home game on Sunday, March 10th at The River's Edge in Davenport.

For the second year in a row, the team paired up with the St. Baldrick's Foundation to raise money for kids with cancer. As of Tuesday, the Jr. Flames had collected $9,169 through raffles and donations, surpassing last year's total of $5,007. For anyone still interested in donating to the team, there's still time to do so. People can donate online at www.stbaldricks.org/teams/mypage/80168/2013. The main Quad Cities St. Baldrick's event will be held at 11:30am on April 20th at the Gold Leaf Convention Center, located at 2902 E. Kimberly Road in Davenport.
Quad City's involvement with the St. Baldrick's Foundation is very near and dear to Jr. Flames Head Coach Tom McDermott.
"It means a lot to me to help the kids and the families out because of all the people that supported my family when my nephew/godson fought and lost his battle with cancer."

Prior to their final regular season game against the Queen City Steam, Stuart Handley, a volunteer with the St. Baldrick's Foundation, introduced the team and their fans to nine-year-old Charly Erpelding. Last May, the young Bettendorf girl was diagnosed with Stage 4 Ewing's Sarcoma. As her dad, Andy, told the crowd a little bit about Charly and her fight against cancer, there was a huge roar when he informed them that she was CANCER FREE! She was then escorted to center ice by Jr. Flames' leading fundraisers Aksel Campbell and Robbie Vukelich for a ceremonial puck drop. The entire Jr. Flames organization would like to congratulate Charly and her friends and family for winning the battle! In addition, the team would like to thank their families and friends for supporting their fundraising efforts and the St. Baldrick's Foundation for all they do for the Quad City community.