North Iowa Bulls crowned 2012-13 NA3HL Silver Cup Champions
March 30, 2013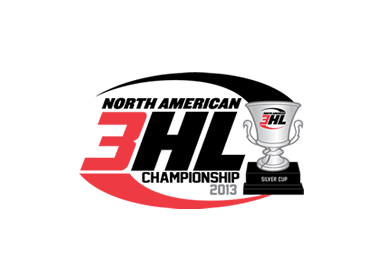 North Iowa Bulls 11 vs. Peoria Mustangs 0
It was all North Iowa from start to finish on Saturday as the Bulls were propelled by a torrid start and went onto cruise to a 11-0 win over the Peoria Mustangs in the NA3HL Silver Cup Championship Game. As the NA3HL Champions, the North Iowa Bulls earned the right to represent the NA3HL at the USA Hockey Tier III Junior National Championships in Rochester, Minnesota, from April 4-8.
The Bulls jumped out to a great start and it took less than a minute for them to grab the lead. Matt Kroska won a face-off in the Peoria zone and the puck went straight to Eric Behrend, who one-timed a blast past Mustangs goaltender Michael Parda. After Bulls goalie Matt Bartels made a breakaway save, the Bulls carried that momentum down the ice and capitalized once again. This time Kroska was the recipient of a nice cross ice pass to put home a one-time from the bottom of the right post to make the score 2-0. The barrage by North Iowa continued as Bryan Broders scored from the right circle to make it 3-0 for the Bulls. The Bulls continued the pressure as a shot from the point from Ron Lindgren found its way through traffic and a screened Michael Parda to put the Bulls ahead 4-0. The scored would climb to 5-0 as Kroska again found himself on the backdoor alone against Parda and lifted a shot over Parda's left shoulder for a 5-0 lead. The fifth Bulls goal would spell the end of the afternoon for Parda, who was replaced by Alex Reichle. The Bulls fired off 26 shots in the period to Peoria's seven.
In the 2nd period, the Mustangs came out strong and held North Iowa at bay much of the period. However, the Bulls offense was not to be denied as Andrew Halama scored to make it 6-0 with less than two minutes to go in the period. Patrick Sivets made it 7-0 with :26 seconds remaining in the period.
The 3rd period began like the 1st period did, with North Iowa scoring a goal. This time it was Matt Kroska completing his hat-trick with a nice shot that beat Reichle. The Bulls made it 9-0 on a goal from Kyle Krueger as he put home the fourth shot in a sequence. Eric Behrend made it 10-0. Patrick Sivets scored his second of the game to make the final 11-0.